Trump Tells His 11.9 Million Followers to 'Check Out' Machado Sex Tape in Early A.M. Tweetstorm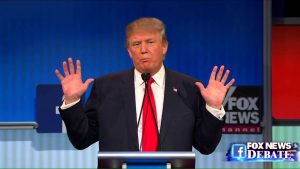 Before most Americans in this country were even awake this morning, Republican nominee Donald Trump eschewed any hopes for a controlled candidacy by firing off a series of angry Tweets between 3:20 a.m. EST and 5:30 a.m. EST.
Sometime in the hours after his campaign stop in Bedford, New Hampshire, the serial Tweeter could not help himself, and apparently Kellyanne Conway was unsuccessful in wrestling the phone away from her boss. He began his assault against the media, slamming unverified "sources" that may speak out against him.
Anytime you see a story about me or my campaign saying "sources said," DO NOT believe it. There are no sources, they are just made up lies!

— Donald J. Trump (@realDonaldTrump) September 30, 2016
Right, "there are no sources," the same way there are no people when Trump touts the nebulous phrase "Many people are saying." He then turns his attention two hours later onto former Miss Universe Alicia Machado and the controversy that has brewed since she was invoked by Hillary Clinton on Monday night's debate stage.
Wow, Crooked Hillary was duped and used by my worst Miss U. Hillary floated her as an "angel" without checking her past, which is terrible!

— Donald J. Trump (@realDonaldTrump) September 30, 2016
Using Alicia M in the debate as a paragon of virtue just shows that Crooked Hillary suffers from BAD JUDGEMENT! Hillary was set up by a con.

— Donald J. Trump (@realDonaldTrump) September 30, 2016
And here's the kicker for the morning, folks. Following in the footsteps of conservative icons like Jack Kemp and Ronald Reagen, Trump sounded off to his 11.9 million Twitter followers to "check out" Alicia Machado's sex tape because she's "disgusting."
Did Crooked Hillary help disgusting (check out sex tape and past) Alicia M become a U.S. citizen so she could use her in the debate?

— Donald J. Trump (@realDonaldTrump) September 30, 2016
This, from the man who is actively closing the gap on the United States Presidency. Happy Friday, everyone!
—
J.D. Durkin (@jiveDurkey) is an editorial producer and columnist at Mediaite.
[image via Fox News screengrab]
This is an opinion piece. The views expressed in this article are those of just the author.