Trump's Physical is in and Nobody Buys That He Only Weighs 243: Maybe 'From His Knees Down'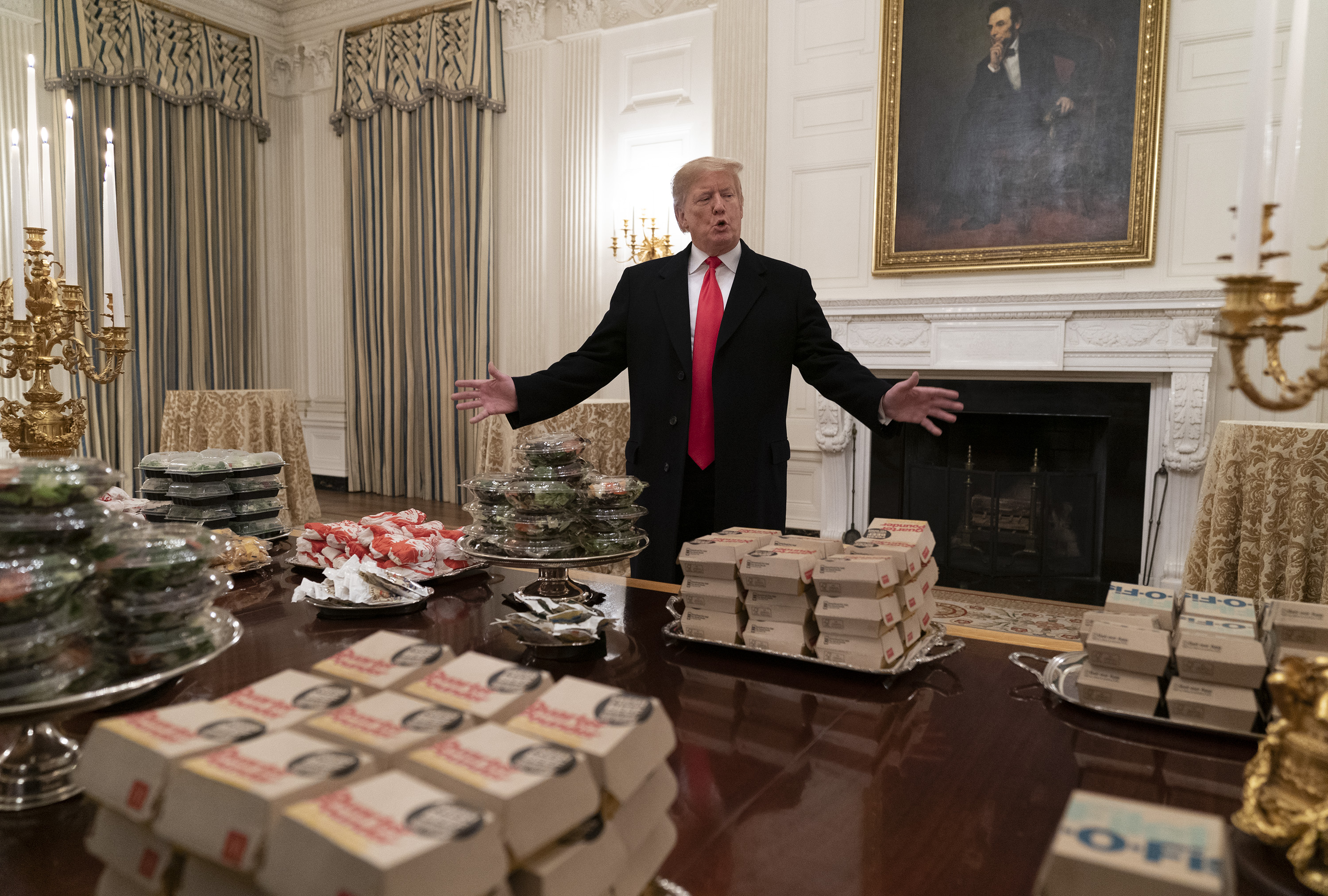 The results are in from President Donald Trump's annual physical, and one number is raising quite a few eyebrows.
According to a report by Dr. Sean Conley, the president weighs in at 243 lbs. — up four from his recorded weight last year.
Trump has gained four pounds since his last checkup with Dr. Ronny Jackson. pic.twitter.com/hb8xQBsbJo

— Jim Acosta (@Acosta) February 14, 2019
But many on Twitter are extremely far from convinced that the president — whose disdain for exercise and love of fast food are both very well documented — truly checks in at 243. Here's a sampling of the skepticism:
Yeah. 243 from his knees down. That is a very generous scale. https://t.co/rx1rlqIXww

— Joe Scarborough (@JoeNBC) February 14, 2019
If you believe Donald Trump is 6'3" and 243 pounds I don't know what to say to you. https://t.co/RGtme73Ccg

— Matthew Yglesias (@mattyglesias) February 14, 2019
243 pounds! Seriously? His left leg weighs 243 pounds. Everything about this guy is a lie and a fraud and a con. https://t.co/6rmruPlehP

— Paul Begala (@PaulBegala) February 14, 2019
Donald Trump is telling us he is 6'3 and 243 pounds. Lol

For reference, Khalil Mack (@52Mack_ ) is 6'3 and 247 pounds. https://t.co/6lLCOHYR4I

— Ja'han Jones (@_Jahan) February 14, 2019
Trump weighs 243 kilos, maybe.

— Jeremy Newberger (@jeremynewberger) February 14, 2019
There is NO way he only weighs 243. More like 343. And way to make weight a thing trump. Ugh. Who cares. But stop lying about everything.

— Galena Mosovich (@galenawrites) February 14, 2019
GREATEST LIES ABOUT HEIGHT/WEIGHT, RANKED

5) Kyler Murray is 5'10"
4) Kevin Durant is under 7 feet
3) LeBron is 6'8", 250 pounds
2) Andre the Giant was 7'4"
1) Donald Trump is 6'3" 243 pounds pic.twitter.com/eO8cLmbeRE

— Tyler Conway (@jtylerconway) February 14, 2019
243 pounds? Is that on, like, Mars?

— Tod Goldberg (@todgoldberg) February 14, 2019
not so much pic.twitter.com/yHzyFxZqDv

— Philippe Reines (@PhilippeReines) February 14, 2019
I am 6'3″ and lemme tell you one fucking thing, that dude is not 243 https://t.co/TMxbND2C3Q

— Jason Bailey (@jasondashbailey) February 14, 2019
[featured photo via Getty Images]
Have a tip we should know? tips@mediaite.com
Joe DePaolo - Senior Editor