Tucker Carlson Says He Wanted to Be Mean to Teen Vogue Writer in Infamous Interview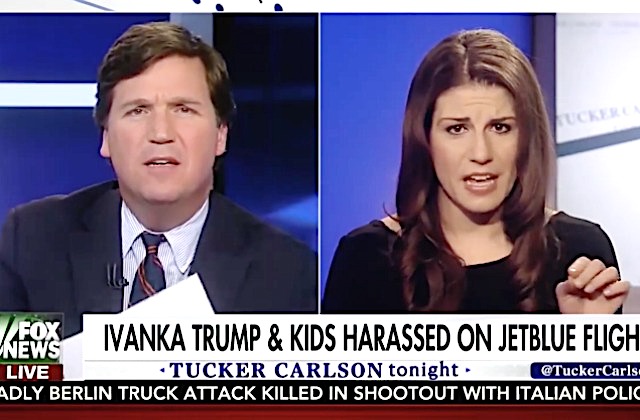 Late last year, Fox News host Tucker Carlson engaged in a highly contentious interview with Teen Vogue writer Lauren Duca that instantly went viral. The conversation was infamous for Carlson mocking Duca for her occupation, telling her to focus on "thigh-high boots" rather than politics because she's "better at that." He also hit her publication over its focus on teen fashion. (Duca would call Carlson a "partisan hack" during the interview and criticize him after, calling out his "bully tactics.")
.@TuckerCarlson is an enemy of rational discourse. In this fraught moment, his bully tactics are profoundly damaging, and achieve nothing.

— Lauren Duca (@laurenduca) December 24, 2016
In a profile piece published by The Atlantic earlier today, Carlson would express some regrets over how that interview came off, largely blaming it on the fact that he wanted to be mean to her — while also getting the name of her outlet wrong.
"If I find myself wanting to be mean to anyone, it's time to stop," he tells me.

"Does that happen sometimes?" I ask.

He glances down at his salad. "It's happened once, yeah."

"With who?"

"With, um, a woman from Teen Glamour."

I know instantly what interview he's talking about. "You mean Teen Vogue?"

"Whatever."
Tucker Carlson says his interview @LaurenDuca went badly because he found himself "wanting to be mean" to her: https://t.co/6MSt6KiuaR pic.twitter.com/ufW9IIGl1N

— McKay Coppins (@mckaycoppins) February 23, 2017
Carlson also noted that he feels his own lack of preparedness for the interview contributed to his behavior with Duca, stating that he doesn't "want to get mad" because he thinks it "diminishes me and the show."
Below is video of the interview between Tucker and Duca. Judge for yourself.
Later on in his conversation with The Atlantic's McKay Coppins, Carlson explained that the reason he was so upset with Duca during that segment and wanted to treat her that way was her positions and attitude.
"It was the unreasonableness … It's this assumption — and it's held by a lot of people I live around — that you're on God's side, everyone else is an infidel, and by calling them names you're doing the Lord's work. I just don't think that's admirable, and I'm not impressed by that."
After the piece was published, Duca took to Twitter to highlight what could have been behind Carlson's treatment of her.
At least Pat gets it pic.twitter.com/Mu33yEqkAN

— Lauren Duca (@laurenduca) February 23, 2017
[image via screengrab]
——
Follow Justin Baragona on Twitter: @justinbaragona
Have a tip we should know? tips@mediaite.com