Twitter Blasts Al Franken Over Fondling, Kissing Accusations: 'This Sh*t Was NEVER Funny'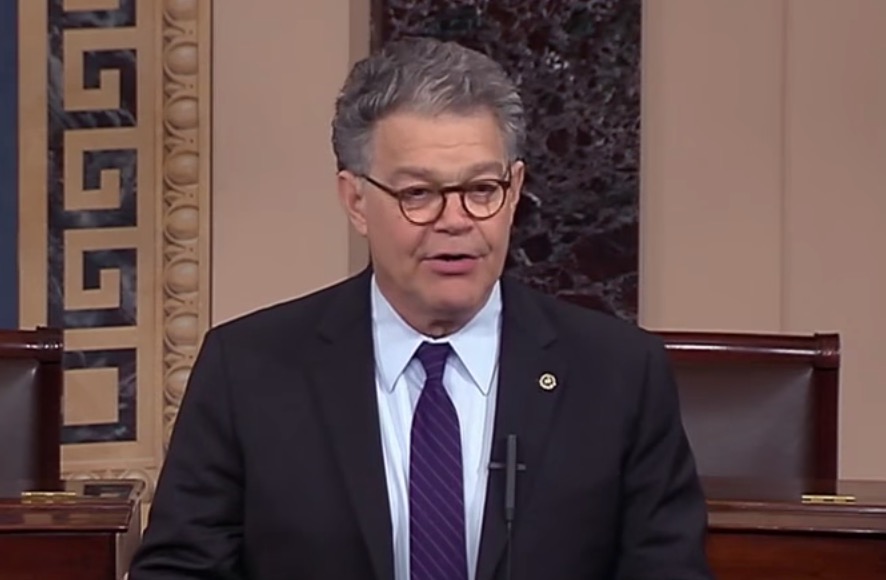 Media and Political Twitter are tearing Sen. Al Franken apart over today's news about his inappropriate behavior towards a radio host several years ago.
KABC's Leeann Tweeden told her story Thursday about how the former comedian-turned-Minnesota senator touched her innapropriately during a United Service Organizations Christmas show in 2006. Tweeden not only said that Franken forcibly kissed her against her will, but she also released a photo showing him grabbing her chest while she was sleeping.
There has been a lot of news lately about sexual harassment and objectionable behavior, but the revelations about Franken immediately took off online, and the disapproving reactions came in droves:
Al Franken must resign. https://t.co/pCvTkoJRZZ

— Joel B. Pollak (@joelpollak) November 16, 2017
Al Franken lives at the intersection of politics and entertainment, both industries full of misogynistic, power-mad, unaccountable assholes. High probability the story doesn't end where it currently sits.

— Liz Mair (@LizMair) November 16, 2017
This photo is really bad news for Al Franken, rarely is there photographic evidence of these allegations… https://t.co/RUFs8Lcxz6 pic.twitter.com/yLnw981p9J

— Sarah Westwood (@sarahcwestwood) November 16, 2017
Sexual assault/harassment is not one party's problem. It's the country's problem.

— (((Harry Enten))) (@ForecasterEnten) November 16, 2017
Assaulting women is not funny. Full stop. https://t.co/43CE4qr4sC

— Trey Yingst (@TreyYingst) November 16, 2017
Imagine having a photo of the worst moment of your life. Imagine sharing that photo all over the internet. Imagine knowing what comes next: that you'll be forced to relive the memory of an assault in front of the whole country. That's how brave @LeeannTweeden is.

— Angela Morabito (@AngelaLMorabito) November 16, 2017
Everyone who wrote "Wow, Bill Clinton should have resigned" essays are working on their "Step Down, Al Franken" essays right now, right? https://t.co/zdXPB2r7T0 pic.twitter.com/Z5snbL1rov

— Sonny Bunch (@SonnyBunch) November 16, 2017
Some reactors noted how Franken's situation reflects the sexual abuse claims against Roy Moore:
The Hypocrisy Olympics are about to go into overtime. https://t.co/7HuFdPdki5

— Charlie Sykes (@SykesCharlie) November 16, 2017
Franken needs to address this, and probably this is a career-ender. As it should be. But the folks pretending this somehow absolves Moore are really rather sick.

— Steve Singiser (@stevesingiser) November 16, 2017
I'll say this: Haven't seen a single liberal writer, pundit or politician in my feed try to defend Franken here. Wish I could've said the same about GOP & Moore.

— Seth Mandel (@SethAMandel) November 16, 2017
And then, others who ripped Franken for what they consider an inadequate statement in response to the allegations:
Who wrote this statement? Christ. https://t.co/Ev3MoYkepn

— Yashar Ali ? (@yashar) November 16, 2017
yeeeeesh https://t.co/Z6GHAZLVzU

— Gideon Resnick (@GideonResnick) November 16, 2017
this is, uh, not a good response https://t.co/Fcbc8DKOr3

— Jamelle Bouie (@jbouie) November 16, 2017
"I'm resigning." There, there's your response. https://t.co/FkvnIZMeYZ

— Jane Coaston (@cjane87) November 16, 2017
Shit like this was never funny. Ppl may have laughed, someone may have gleefully snapped that pic, but this shit was NEVER funny to women pic.twitter.com/hEFwTI51PS

— Andy Richter (@AndyRichter) November 16, 2017
[Image via screengrab]
— —
>> Follow Ken Meyer (@KenMeyer91) on Twitter
Have a tip we should know? tips@mediaite.com