Mitch McConnell Calls for Ethics Committee Review Over Al Franken Allegations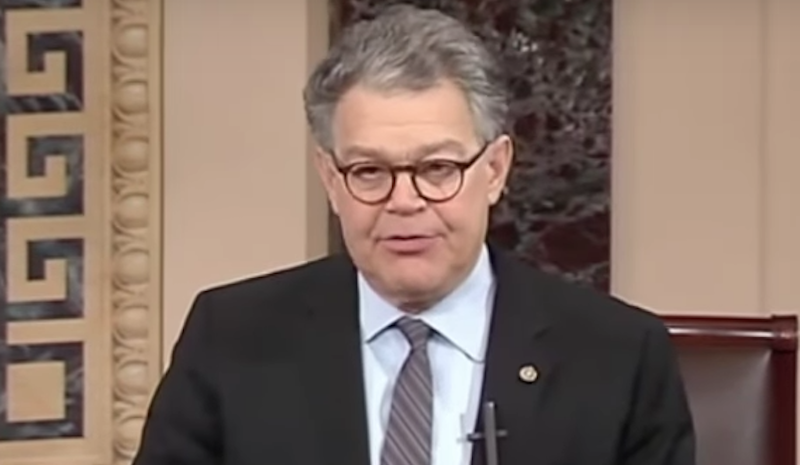 Sen. Al Franken has been accused of sexually assaulting radio host Leeann Tweeden at a USO event in 2006, forcing his tongue down her throat as the pair rehearsed for a comedy sketch. Additionally, there is photographic evidence of the SNL alum groping the woman as she lay asleep. Damning, to be sure.
Senate Majority Leader Mitch McConnell sure thinks so. He has announced that the incident should be formally investigated.
McConnell released a statement on the matter around 90 minutes after the story dropped, wherein he urged Democrats to follow his lead.
"As with all credible allegations of sexual harassment or assault, I believe the Ethics Committee should review the matter," he wrote. "I hope the Democratic Leader will join me on this. Regardless of party, harassment and assault are completely unacceptable — in the workplace or anywhere else."
Franken has issued an apology, of sorts, saying "I certainly don't remember the rehearsal for the skit in the same way, but I send my sincerest apologies to Leeann," adding that he should not have posed for the incriminating photo.
Tweeden's description of the incident is disturbing.
"He came at me, put his hand on the back of my head, mashed his lips against mine and aggressively stuck his tongue in my mouth," she wrote in a statement. "I felt disgusted and violated."
His democratic colleagues are starting to express solidarity with McConnell. Sen. Tim Kaine, former candidate for vice president, called Franken's behavior "unacceptable" and noted that the call for an ethics investigation "has merit."
[image via screenshot]
—
Follow Lawrence Bonk (@sidescrollers) on Twitter
Have a tip we should know? tips@mediaite.com