Twitter Explodes in Praise and Outrage at John McCain After Health Care Vote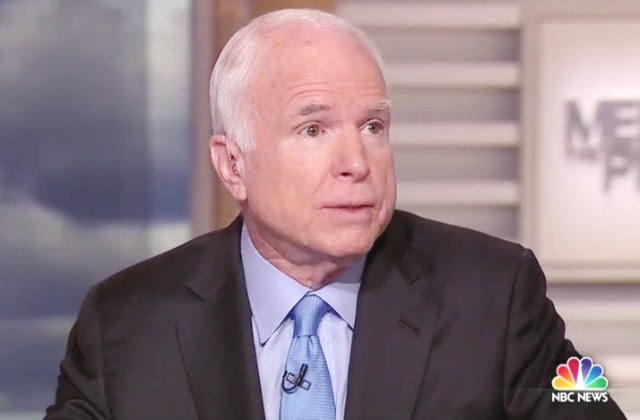 The Twitterverse was sent into overdrive last night as people reacted to the news that the Senate failed to pass their latest motion to repeal the Affordable Care Act. A lot of the conversation gravitated around Senator John McCain due to his central role throughout the developments on health care this week.
Despite his ongoing battle with brain cancer, McCain flew to Washington this week in order to vote yes on the procedural vote to open the Senate floor to a health care debate. McCain ended up shocking the world again, however, after he ended up casting the decisive vote that prevented the Obamacare "skinny" repeal from getting the count it needed.
Some people praised McCain after he effectively stopped the bill:
1) Dear Trumpers,
This is not the "fault" of McCain, Collins, and Murkowski.

— Jonathan V. Last (@JVLast) July 28, 2017
The three Republicans that voted no are not up for re-election.

This is why the Senate has staggered terms.

The Constitution. Still works.

— Bill Scher (@billscher) July 28, 2017
Maybe McCain likes presidents who weren't captured by a frenzied rush to pass a health care bill that reduced coverage for millions.

— Dan Diamond (@ddiamond) July 28, 2017
Thanks @SenJohnMcCain, @lisamurkowski & @SenatorCollins for voting to save health care.

And thanks to all who never stopped calling them.

— ACLU National (@ACLU) July 28, 2017
My god McCain hates Trump so much HAHAHAHAHA

— billy eichner (@billyeichner) July 28, 2017
An act of heroism.
The moment @SenJohnMcCain voted "No" on #SkinnyRepeal. @LisaMurkowski & @SenatorCollins are also heroes tonight. pic.twitter.com/HPPe5BUpwm

— Beau Willimon (@BeauWillimon) July 28, 2017
Thank you to Collins, Murkowski, McCain and EVERY SINGLE DEMOCRAT for doing the right thing and protecting our health care.

— Christina Reynolds (@creynoldsnc) July 28, 2017
I ❤️ John McCain. That's all. https://t.co/wE56Hv0r6F

— Ana Navarro (@ananavarro) July 28, 2017
Many GOPers offer words in opposition to Trump-but few have backed it up with actions. Thx to Sens Collins, Murkowski and McCain for courage

— (((DeanObeidallah))) (@Deanofcomedy) July 28, 2017
McCain got to (a) reinforce his maverick image (possibly as his swan song), (b) exact revenge on Trump, & (c) kill a legitimately bad bill.

— Matt Lewis (@mattklewis) July 28, 2017
However, not all of the tweets were good. Some people were furious with McCain, along with Republican Senate holdouts Lisa Murkowski and Susan Collins.
Is John McCain gonna play the cancer victim card now that his war hero card is all punched out? I had cancer – twice. McCain is a traitor.

— Bill Mitchell (@mitchellvii) July 28, 2017
Always a slave for elites' approval and last night he sealed his legacy with them. https://t.co/MiwUzGLODR

— Laura Ingraham (@IngrahamAngle) July 28, 2017
Washington's shell game:

"Wait for the show," he said. / The night John McCain killed the GOP's health-care fight https://t.co/Hf5A9qECBb

— Jason Miller (@JasonMillerinDC) July 28, 2017
I'm not happy with John McCain after seeing him laughing with Schumer and hugging Dems. I'm telling you- this guy is a Democrat in disguise.

— Josh Hall (@realJoshuaHall) July 28, 2017
I prefer Never to see or hear of John McCain again. He's a liar.

— Kurt Schlichter (@KurtSchlichter) July 28, 2017
Translation: "Democrat" https://t.co/PaUv1Wbb6v

— Jack Posobiec ?? (@JackPosobiec) July 28, 2017
Sorry, Arizonans disproportionately suffering under Obamacare's failures, your Senator has other priorities — despite what he told you. https://t.co/obPgV0TjaU

— Guy Benson (@guypbenson) July 28, 2017
So now it is #ObamaCollinsMurkowskiMcCainCare. U don't like anything at all re ur health care? Thank President Obama and those 3 senators.

— Hugh Hewitt (@hughhewitt) July 28, 2017
[Image via screengrab]
— —
>> Follow Ken Meyer (@KenMeyer91) on Twitter
Have a tip we should know? tips@mediaite.com