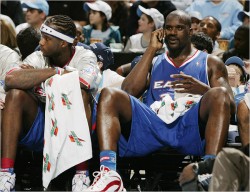 140 characters is mightier than…well football players and the military, apparently. Two stories came out today about two very different but very powerful organizations deciding to ban the use of Twitter. First up the New York Times is reporting that the NFL does not want any of its players twittering at practice, or about practice, or basically about anything football related at all!
As training camps opened last week, players were told that the same standard — read: paranoia — that applied to the flow of information to reporters also applied to Twitter. In Green Bay, players were told they would be fined if they texted or tweeted from team meetings or coaching sessions.
Though you just know it's going to happen anyway. People like to share their thoughts! Athletes are no different in this respect. Actually the smart thing to do would probably be to password protect the Twitter feeds and sell the passwords on team websites, or something like that. We bet people would pay for that.
The second store is slightly more understandable and occupies a much grayer area. The Wired blog Danger Room is reporting that the military is also banning Twitter (and Facebook and MySpace along with it). This from the Marines Corp.:
"These internet sites in general are a proven haven for malicious actors and content and are particularly high risk due to information exposure, user generated content and targeting by adversaries…The very nature of SNS [social network sites] creates a larger attack and exploitation window, exposes unnecessary information to adversaries and provides an easy conduit for information leakage that puts OPSEC [operational security], COMSEC [communications security], [and] personnel… at an elevated risk of compromise."
So yeah, it's not hard to imagine Twitter, or Facebook, or MySpace becoming some sort of security hazard. That said, the military has apparently been jumping into the deep end of the social networking pool of late. Per a story from CNET back in June:
The U.S. military in Afghanistan is launching a Facebook page, a YouTube site, and Twitter feeds as part of a new communication effort. Officials said this would help the military reach those who get their information online rather than via printed materials.
So how to reconcile the the official pages and feeds and the official ban? Looks like the military is trying to sort that out along with everyone else. In the meantime Danger Room points out the ban is actually only in place for the next a year. No doubt by that point we will have entirely new online problems and questions to contend with!
Have a tip we should know? tips@mediaite.com