Twitter Nukes The Federalist for Publishing Hot Take Defending Roy Moore: 'Vote For the Child Molester'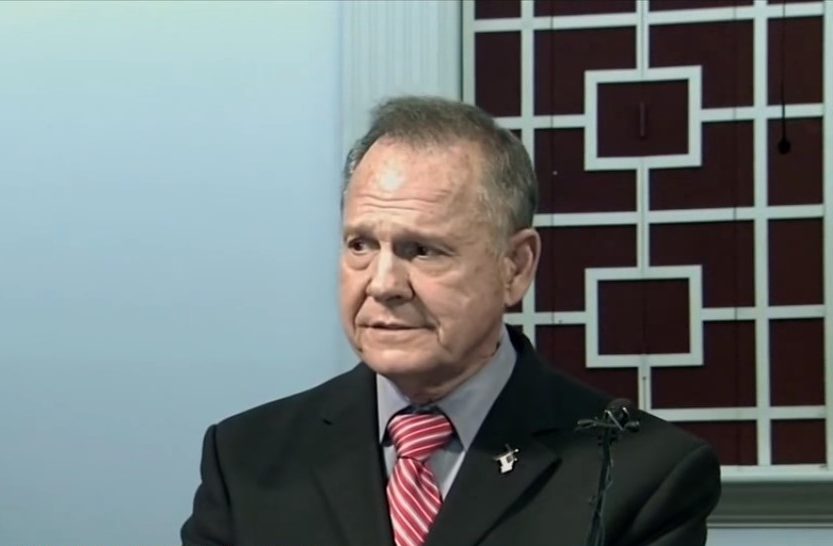 The conservative opinion site The Federalist published one of their all-time hot-takes this morning as a contributor advocated for supporting Roy Moore even if the allegations of child molestation and sexual assault are true.
"If elected, Moore would join the ranks of other undignified politicians who have been liars and fornicators. I have a 14-year-old daughter. If I caught him doing what was alleged, for starters I would kick him where it counts. Hard. That being said, I don't think it's wrong to vote for Moore," writes Tully Borland — a self-avowed "superhero against the dark forces of political correctness."
Borland went onto to justify cases of predatory behavior similar to Moore's by saying it is "not without some merit" if a man intends to start a large family, as they would have to marry a teenage girl to take advantage the maximum number of her fertile years.
Predictably, the disturbing opinion received bipartisan outrage on Twitter — with many popular conservative figures teaming-up with their mainstream and liberal counterparts to drag The Federalist:
Oh for the love of God, just stop. https://t.co/7UYAgrOGnN

— Noah Rothman (@NoahCRothman) November 30, 2017
Anti-anti-Moore is the best anti-anti

— Allahpundit (@allahpundit) November 30, 2017
This piece is gross but also a useful reminder that, as always, tribalism is the only thing that matters anymore. https://t.co/NX5iRf1xFa

— Sonny Bunch (@SonnyBunch) November 30, 2017
This is a terrible article and I'm sorry the @FDRLST ran it. https://t.co/wRMMC94kGi

— Jonah Goldberg (@JonahNRO) November 30, 2017
Vote for the child molester–it's important. https://t.co/izIVObBGYJ

— Mike Warren (@MichaelRWarren) November 30, 2017
leeeeeeeeeeeeeroy jenkins pic.twitter.com/tN33XBPNJD

— Kilgore Trout (@KT_So_It_Goes) November 30, 2017
The Federalist coming in hot with the "Actually, kid-fucking is good" take this morning. pic.twitter.com/kDizmZISGa

— Parker Molloy (@ParkerMolloy) November 30, 2017
There it is. The Federalist says it's okay to vote for a sexual predator & assaulter of children because abortion. pic.twitter.com/tvKJdUKHLP

— Nish Weiseth (@NishWeiseth) November 30, 2017
"I have a 14-year old daughter. If I caught Roy Moore doing what was alleged, I would kick him where it counts. But if he did it to 9 girls who aren't MY daughter, I'm ok with putting him in the US Senate." – The Federalist, redux

— John Fugelsang (@JohnFugelsang) November 30, 2017
Roy Moore is accused of trapping a 16-year-old in a car with him and trying to force her head toward his crotch, and then leaving her shaken and bruised on he pavement.

Someone explain what that has to do with starting a family. https://t.co/2xCUnpXhKa

— Brooke Rogers ? (@bkerogers) November 30, 2017
The guy who wrote in the @FDRLST that Alabamians should vote for Roy Moore also tweeted Moore should step down "for attempted rape and lying about it" two weeks ago. pic.twitter.com/qrlzLcQ3C8

— Katie Watson (@kathrynw5) November 30, 2017
This is a real article on The Federalist. pic.twitter.com/6r9S763MwH

— Marybeth Glenn (@MBGlenn) November 30, 2017
Oh good The Federalist has now published an article saying it was fine for Moore to prey on teens – he wanted a big family! Needed a young lady for long term birthing! What other choice did he have! pic.twitter.com/kzXfYRg1Os

— Jessica Huseman (@JessicaHuseman) November 30, 2017
[image via screengrab]
Follow the author on Twitter (@calebecarma).
Have a tip we should know? tips@mediaite.com