Twitter Reacts to Giuliani's Stunning This Week Interview: 'He's Pulling a Nunberg'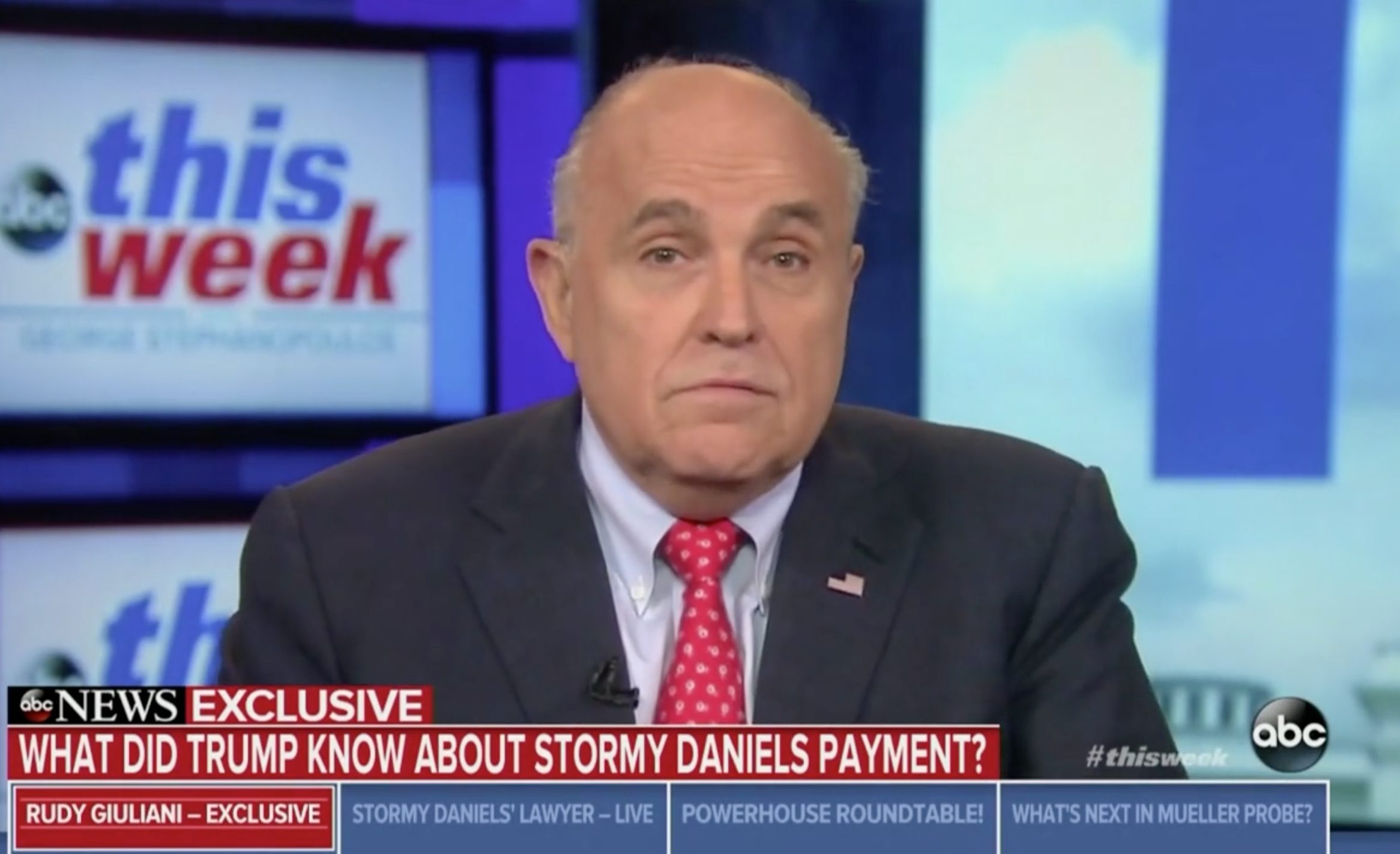 Rudy Giuliani, once again, appears to have made President Donald Trump's life more difficult by going on television.
The former New York City Mayor's Sunday appearance on This Week included the jawdropping statement that "if it was necessary" Trump lawyer Michael Cohen may have paid hush money to women other than Stormy Daniels. (White House counselor Kellyanne Conway has already tried to distance the White House from that comment, telling Margaret Brennan of CBS "I don't know why anyone would say that.")
Twitter was stunned by the latest round of off-the-cuff remarks from Giuliani. Here's a sampling of the reaction.
Somewhere, @Scaramucci is saying to himself, "Really? I was worse than this guy?!" https://t.co/c5Yeo3kGen

— Daniel W. Drezner (@dandrezner) May 6, 2018
Rudy is : 1)a Mueller plant 2)mentally in decline 3) trying to get fired 4) trying to get Trump impeached or ) some combination ?

— Jennifer Rubin (@JRubinBlogger) May 6, 2018
Trump will like the Rudy interview because it was contentious and blustery.

Trump also believes KFC and Filet O'Fish are healthy meals.

— Rick Wilson (@TheRickWilson) May 6, 2018
Dear Legal Scholars,
Please help me understand ?

Rudy Giuliani: "I'm talking about the law and the conclusion. The facts, I'm still learning."

How does one draw conclusions without knowing the facts?

— Stephanie Ruhle (@SRuhle) May 6, 2018
Sunday takes
-Rudy is not well. He's pulling a Nunberg but w/ POTUS approval
– Theres an empty set of scenarios where Cohen was not committing financial crimes as Trump's bag man
– My guidestar for unknown craziness is Reince comment "take everything you hear & multiply by 50"

— Tim Miller (@Timodc) May 6, 2018
Keep talking, Rudy. Keep talking. https://t.co/ht78qvTshS

— David Corn (@DavidCornDC) May 6, 2018
Remember how quickly the Mooch came and went?
You have to believe the Producer-in-Chief will pull Rudy off the air after several disastrous auditions in which he only has complicated the president's legal morass.

— David Axelrod (@davidaxelrod) May 6, 2018
Apparently Rudy Giuliani's task is to finally relieve Chris Christie of his grueling time in purgatory.

— Steve Deace (@SteveDeaceShow) May 6, 2018
I would urge the public to watch Mr. Giuliani's full interview on @ThisWeekABC. An unmitigated disaster. This is what happens when you can't keep your lies straight. #basta https://t.co/kuWTjkLT5B

— Michael Avenatti (@MichaelAvenatti) May 6, 2018
Among the things Giuliani calls "the facts that we're still working on" is finding out when Trump first knew about the payments to Stormy.

That seems like a pretty easy one to find out.

Ask the president

— Sam Stein (@samstein) May 6, 2018
Honest question. Was Rudy Giuliani ever a good/great lawyer? People are treating this like a "fall". A fall from what, mediocrity…

— Bakari Sellers (@Bakari_Sellers) May 6, 2018
This from Giuliani's @ABC interview today feels like #2018 in one breezy quote…

"GIULIANI: I don't know — I don't know how you separate fact and opinion."

— Shawn Donnan (@sdonnan) May 6, 2018
did michael cohen make payments to other women on behalf of president trump?

rudy giuliani on @thisweekABC: "i have no knowledge of that, but i would think if it was necessary, yes."

!!!

— kelly cohen (@politiCOHEN_) May 6, 2018
[featured image via screengrab]
——
Follow Joe DePaolo (@joe_depaolo) on Twitter
Have a tip we should know? tips@mediaite.com
Joe DePaolo - Senior Editor