Twitter Reacts to Michael Wolff-Morning Joe Feud: 'You All Deserve Each Other'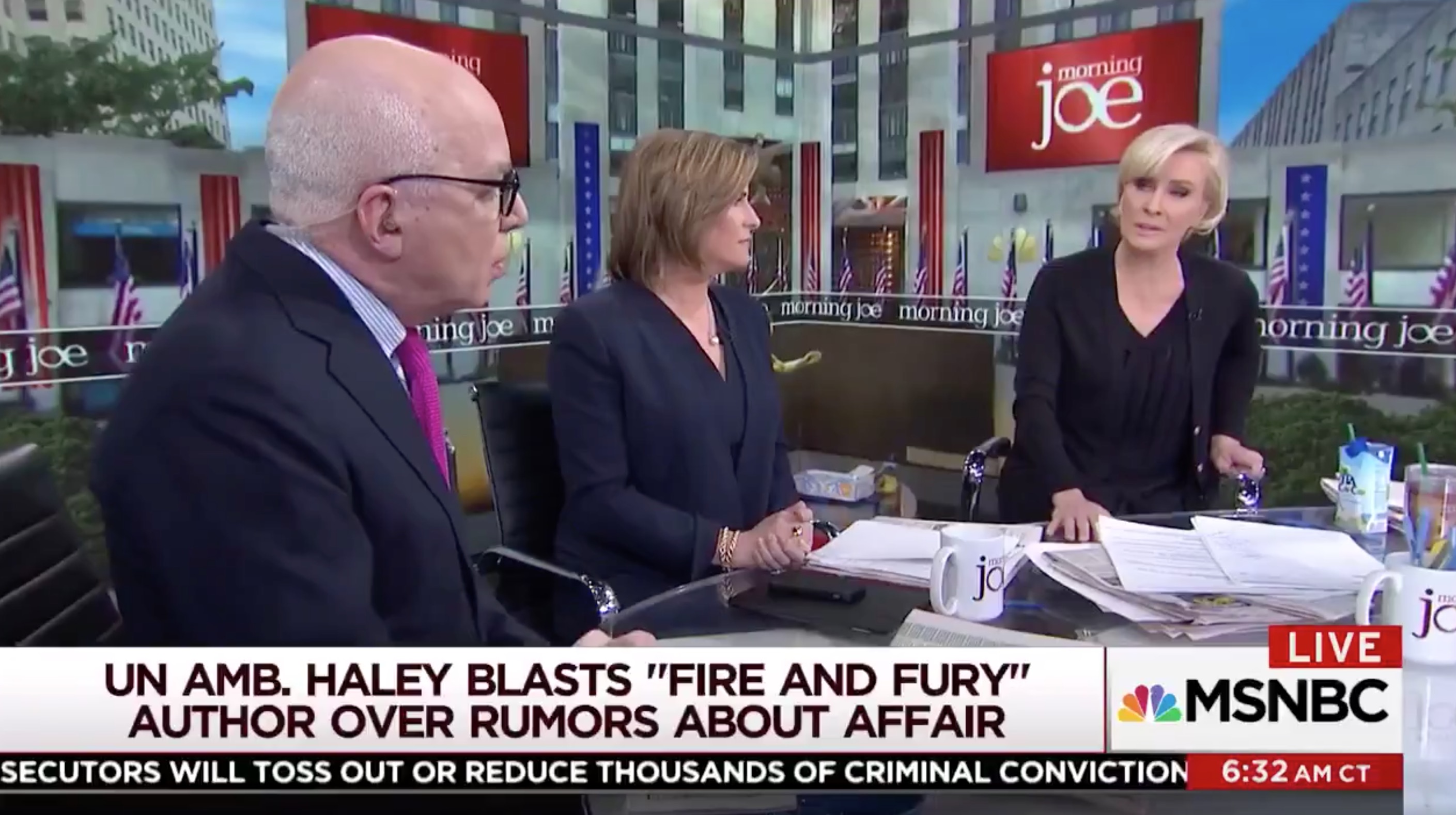 The internet had a lot to say about Michael Wolff's appearance on Morning Joe today, and his emerging feud with MSNBC host Mika Brzezinski.
As the Fire & Fury author talked with the panel about the latest developments in Trumpworld, things took a nosedive once they started discussing Wolff's implicit encouragement of the salacious rumors about U.N. ambassador Nikki Haley. Wolff said yesterday that Haley basically "embraced" the rumors of her affair with President Donald Trump by taking time to deny them, but Brzezinski was having none of it today, and she clashed with Wolff before abruptly ending the interview early.
Wolff launched a tweetstorm after that car crash of an interview, saying Trump "is right" about Brzezinski, and also fumed about how much time Morning Joe spent gossiping off-camera about the president's possible affairs the last time he was on the show.
As it were, the Twitterverse is not impressed by any of this, and they made their feelings known:
Good for @morningmika and the folks at #MorningJoe for kicking Wolff to the curb. Man what a scumbag that guy is.

— Jonah Goldberg (@JonahNRO) February 1, 2018
Good for her. @MichaelWolffNYC isn't a journalist and it's about time we stopped treating him like one. https://t.co/DEMZcgFJjZ

— (((Jason Rantz))) on AM 770 KTTH (@jasonrantz) February 1, 2018
Funny how the tables have turned on Michael Wolff. Everybody swallowed his nonsense until he start whispering about Nikki Haley.

The first person to challenge him in any way was @MeghanMcCain and she got crap for it because how dare she challenge the book that "rings true?"

— Jay Caruso (@JayCaruso) February 1, 2018
popcorn.gif https://t.co/WnCiNBiS91

— Lachlan Markay (@lachlan) February 1, 2018
Wow, you're garbage. https://t.co/oayBHsquCg

— Ben Shapiro (@benshapiro) February 1, 2018
You are just an awful person. You make up stuff of the worst sort and sell it. https://t.co/yBObN82HY1

— Hugh Hewitt (@hughhewitt) February 1, 2018
The truth: Michael Wolff, Joe Scarborough, and Mika Brzezinski are all the bad guys in this situation https://t.co/gqCEHbj52z

— Haley Byrd (@byrdinator) February 1, 2018
This guy and Trump were truly made for each other. https://t.co/KCKCxoK0te

— Josh Kraushaar (@HotlineJosh) February 1, 2018
And he was right about you, too. https://t.co/BcGpleVab9

— Tony Katz (@tonykatz) February 1, 2018
This guy… https://t.co/ig06nf3S4p

— Brian Flood (@briansflood) February 1, 2018
You all deserve each other. https://t.co/FM3S4dntHW

— David Harsanyi (@davidharsanyi) February 1, 2018
Personally attacking fellow journalists is not ok. .@morningmika is a fair and respected journalist who I'm proud to call a friend.

— Bianna Golodryga (@biannagolodryga) February 1, 2018
[Image via screengrab]
— —
>> Follow Ken Meyer (@KenMeyer91) on Twitter
Have a tip we should know? tips@mediaite.com