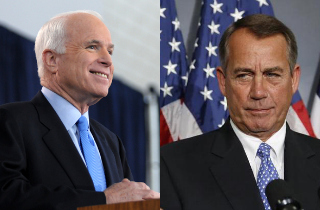 Russia responded quickly to President Barack Obama's second round of sanctions with a volley of their own, imposing sanctions on numerous high-ranking lawmakers and Obama advisors.
Included in the list: Senators John McCain (R-AZ), Senate Foreign Relations Committee Chairman Robert Menendez (D-NJ), Senate Majority Leader Harry Reid (D-NV), and House Speaker John Boehner (R-OH), some of whom are already bragging on the Twitterz:
Proud to be included on a list of those willing to stand against Putin's aggression http://t.co/AL67mauKqq

— Speaker John Boehner (@SpeakerBoehner) March 20, 2014
I'm proud to be sanctioned by Putin – I'll never cease my efforts & dedication to freedom & independence of #Ukraine, which includes #Crimea

— John McCain (@SenJohnMcCain) March 20, 2014
If standing up for #democracy & sovereignty in #Ukraine means I'm #SanctionedByPutin, I'll take it.

— Sen. Robert Menendez (@SenatorMenendez) March 20, 2014
Similarly, Russian and Ukrainian officials bragged on Twitter after being targeted by U.S. sanctions.
Senior Obama advisor Dan Pfeiffer and Deputy National Security Advisor Caroline Atkinson were also included. Those sanctioned are banned from entering Russia.
According to a statement on the Russian Foreign Ministry's website:
"Treating our country in such way, as Washington could have already ascertained, is inappropriate and counterproductive. Nevertheless, it looks like the American side continues to blindly believe in the effectiveness of such methods, taken from the arsenal of the past, and does not want to face the obvious: the people of Crimea, in a democratic way in full accordance with international law and UN regulations, voted to join Russia, which respects and accepts this choice. You may like this decision or not, but we are talking about a reality, which needs to be taken into consideration."
[h/t RT]
[Images via Alan Freed / Shutterstock.com / Jonathan Ernst / Reuters]
——
>> Follow Evan McMurry (@evanmcmurry) on Twitter
Have a tip we should know? tips@mediaite.com