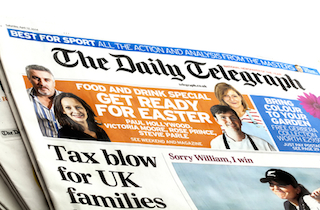 Columnist Peter Oborne published on Tuesday his resignation letter from the British conservative broadsheet Telegraph, alleging widespread conflict of interest between the paper's editorial staff and its high-priced advertisers, especially HSBC bank, that compromised multiple investigations into financial malfeasance.
"The Telegraph's recent coverage of HSBC amounts to a form of fraud on its readers," Oborne wrote. "It has been placing what it perceives to be the interests of a major international bank above its duty to bring the news to Telegraph readers."
In a resignation letter published at Open Democracy, Oborne wrote that increasing layoffs had diluted the content of the paper, culminating in a fatal fealty to major advertisers. "It has long been axiomatic in quality British journalism that the advertising department and editorial should be kept rigorously apart," he wrote. "There is a great deal of evidence that, at the Telegraph, this distinction has collapsed."
Oborne claimed he then had a piece about HSBC shuttering British Muslim's accounts denied publication without explanation. This tipped him off, and he began to notice other advertisers either receiving fluff pieces or barely appearing in the Telegraph's pages when their scandals dominated the covers of rival newspapers.
Oborne said he resigned in December and agreed to leave quietly. But yet another incident occurred last week which spurred him to publish his complaints:
That was how matters stood when, on Monday of last week, BBC Panorama ran its story about HSBC and its Swiss banking arm, alleging a wide-scale tax evasion scheme, while the Guardian and the International Consortium of Investigative Journalists published their 'HSBC files'. All newspapers realised at once that this was a major event. The FT splashed on it for two days in a row, while the Times and the Mail gave it solid coverage spread over several pages.

You needed a microscope to find the Telegraph coverage: nothing on Monday, six slim paragraphs at the bottom left of page two on Tuesday, seven paragraphs deep in the business pages on Wednesday. The Telegraph's reporting only looked up when the story turned into claims that there might be questions about the tax affairs of people connected to the Labour party.
"There are great issues here," Oborne concluded. "They go to the heart of our democracy, and can no longer be ignored."
[h/t Open Democracy]
[urbanbuzz / Shutterstock.com]
——
>> Follow Evan McMurry (@evanmcmurry) on Twitter
Have a tip we should know? tips@mediaite.com