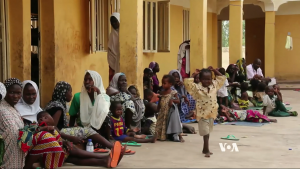 Undercovered is our daily feature bringing attention to women's issues worldwide, which we feel deserve a larger audience.
—
An 18-year-old Nigerian woman who was once held captive as a Boko Haram bride gave an interview to the Thomson Reuters Foundation describing her life following her rescue last year and her efforts to refocus on her education.
Adaobi Tricia Nwaubani reports:
Seven months ago, [Zara John] said she was still in love with the Boko Haram commander. But going back to school has helped John to forget about Ali, her militant husband, and inspired her to focus on her education and her future instead.

"It was after I started school that I stopped thinking about him," she told the Thomson Reuters Foundation by phone from her home in Nigeria's northeastern Adamawa state. "God forbid," she added when asked about the possibility of ever seeing Ali again.

[…] [W]hen foreign journalists starting visiting John, she was struck by the eloquence and confidence of the women among them. One female journalist gave her advice, which John described as the turning point in her decision to go back to school.

"She told me that a woman deserves to be respected," John said. "She told me that what Boko Haram did to me was bad, but that it was not the end of the world. She told me that I should not think about it but that I should focus on my future."
You can read the complete report here.
—
[image: VOA (Public domain), via Wikimedia Commons]
Undercovered is a daily feature from Mediaite, bringing attention to stories about women's issues that warrant more attention. Go through the Undercovered archives here. If you have an idea or a tip, please email us at Undercovered@mediaite.com
Have a tip we should know? tips@mediaite.com