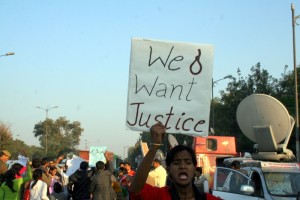 Welcome to Undercovered: our daily feature bringing attention to excellent reporting we feel deserves a larger audience.
Starting this week, Undercovered will be shifting its focus to highlight reporting on women's issues worldwide. 
—
A column published Wednesday in The Guardian takes the scope of the rape crisis in rural India and the reasons why it has gone widely unaddressed.
Priya Virmani, founder and director of the humanitarian project Paint Our World, writes, "There is a stark difference in how rapes in the country's teeming metropolises are investigated and reported compared with those in smaller cities, towns and villages."
According to the National Crime Records Bureau, every day 92 women are raped in India. In 2012, of the 24,923 rapes reported nationwide, 3,035 occurred in the large cities. The number of reported rapes elsewhere in the country was more than seven times higher (despite some cases arguably going unreported) than the number of those reported in the main cities. But the police seem to be selective about what they investigate.
Police responses are sluggish in part, she writes, because of "caste, gender bias and the entitlement culture that exists in India."
You can read the complete column here.
—
Undercovered is a daily feature from Mediaite, bringing attention to stories about women's rights that warrant more attention. Go through the Undercovered archives here. If you have an idea or a tip, please email us at Undercovered@mediaite.com 
[photograph above by Ramesh Lalwani, via Flickr. Available via Creative Commons license CC BY-SA 2.0. Here are some placards seen at various places in Delhi by protesters showing their anger against recent gang rape in Delhi, 2013.]
Have a tip we should know? tips@mediaite.com