'Victim in Chief ': Twitter Reacts to Trump Saying No Politician's Been Treated 'Worse' Than Him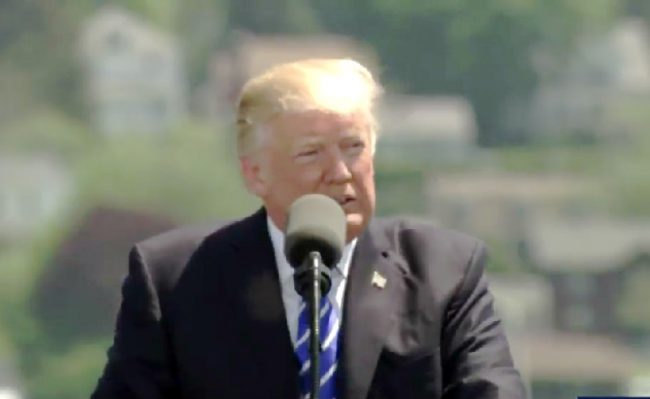 During a commencement speech to the Coast Guard Academy today, President Donald Trump went on a tangent where he shifted the topic to, who else, himself. He let the new graduates know that not only has he been the victim of unfair treatment, but that nobody in political history has dealt with what he has.
"Look at the way I've been treated lately, especially by the media," Trump stated. "No politician in history — and I say this with great surety — has been treated worse or more unfairly."
Well, as you can imagine, the airing of personal grievances at a military academy's commencement address, got quite a bit of attention. Especially considering that there are clear examples of past presidents and politicians who have had a rough go of it.
Like, say, those who were assassinated:
In a speech Trump said "No politician in history has been treated worse or more unfairly." There's literally a band named The Dead Kennedys.

— Matt Fernandez (@FattMernandez) May 17, 2017
Except of course Lincoln, Garfield, McKinley, & Kennedy. https://t.co/XjT2iXSaQp

— Jay Cost (@JayCostTWS) May 17, 2017
Trump: "No politician in history…has been treated more unfairly" than him.

Two words: JFK assassination.

— Donald J Orwell (@DonaldJOrwell) May 17, 2017
Maybe someone could take Trump by the Lincoln Memorial when he gets back to Washington … https://t.co/T9DJUr5Gj9

— Michael Cohen (@speechboy71) May 17, 2017
Trump, today: "No politician in history has been treated worse or more unfairly."

Every History Book in America: pic.twitter.com/wF4gXMJJuo

— David Slack (@slack2thefuture) May 17, 2017
Others chose to point out that Trump's predecessor was accused of being born in another country and was an illegitimate president. Oh yeah, and that the current POTUS was behind most of those charges:
The man who spread a massive conspiracy theory about the president's birthplace is complaining that he, as president, gets unfair treatment

— Sam Stein (@samsteinhp) May 17, 2017
Donald Trump is on tv whining to the Coast Guard about being treated worse than any President-

Yet he forgets he led the birther movement.

— David Yankovich (@DavidYankovich) May 17, 2017
POTUS — who lead birther charge vs Obama — to graduates: 'No politician in history… has been treated worse' https://t.co/BTtgDpgrmo

— Tim O'Brien (@TimOBrien) May 17, 2017
Donald "Birther" Trump says no president has been treated more unfairly. https://t.co/mTBmKkkC0p

— Zach Wahls (@ZachWahls) May 17, 2017
And there were those who observed that Trump was making the speech about himself and giving himself an opportunity to play victim:
Of course Trump made a commencement speech at a United States service academy all about his own problems. Of course he did.

— Jamil Smith (@JamilSmith) May 17, 2017
Oh god, Trump is making the Coast Guard commencement about him.

— John Aravosis (@aravosis) May 17, 2017
Well, can't say it's surprising. Trump transformed a commencement speech into barely coherent self-promotion and whining about the media.

— Aiden Wolfe (@AidenWolfe) May 17, 2017
Trump to Coast Guard grads: "No politician in history…has been treated more unfairly." B/c you can't spell commencement w/o "me" "me" "me"

— Candy Kirby (@candykirby) May 17, 2017
More like: No politician in history has ever been as much of a fragile snowflake as Trump. https://t.co/IxdaIblLts

— James Surowiecki (@JamesSurowiecki) May 17, 2017
Trump really did whine like a snowflake bitch to Coast Guard Academy graduates, didn't he? https://t.co/HuRua3TrTW

— Chris Lavoie (@RadioGuyChris) May 17, 2017
Trump at USCG: Victim in Chief.

— Pete Buttigieg (@PeteButtigieg) May 17, 2017
[image via screengrab]
—
Follow Justin Baragona on Twitter: @justinbaragona
Have a tip we should know? tips@mediaite.com