W.H.: President's Position on Lynch's Role in Clinton Investigation is 'Not Relevant'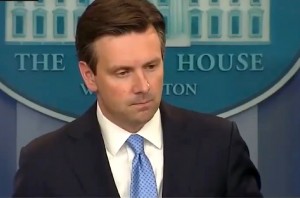 At the daily White House press briefing Friday, Press Secretary Josh Earnest said that the president would remain uninvolved in Attorney General Loretta Lynch's decision to accept the recommendation of FBI investigators looking into Hillary Clinton.
The investigation was being handled completely independent of the president and the administration, Earnest said. President Obama "believes that this matter should be handled without regard to politics," he added.
Lynch's comments came in the wake of reports that she had met privately with Bill Clinton in Phoenix this week, despite the fact that the FBI is still conducting its investigation into Hillary Clinton's use of a private email server while Secretary of State.
"I think the president feels strongly that that is a decision she should make without regard to his opinion about it," Earnest said. "These are independent decisions that should be handled by the Department of Justice, and it's appropriate for the Attorney General to determine what her role is, and she's spoken to that today."
He continued, "The president's view of that matter is not relevant. This is an independent investigation that is intentionally being shielded from any political interference."
The meeting between Lynch and former president Clinton has drawn widespread condemnation for the appearance of impropriety. And some reporters, namely Fox's White House correspondent James Rosen, previously expressed skepticism that the Justice Department could carry out a neutral investigation of Clinton's email server after the president had officially endorsed her.
[image via screengrab]
Have a tip we should know? tips@mediaite.com