Report: The FBI Will Meet With Hillary Clinton Saturday As Part Of Email Investigation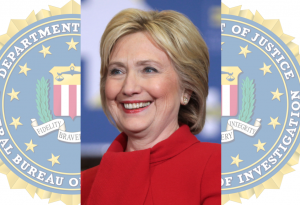 A final and crucial step in the FBI's investigation into the infamous email server probe will happen this weekend.
At least that's according to the Daily Caller's Chuck Ross, who reported that the former Secretary of State is scheduled to meet with FBI agents at her Washington DC home on Saturday, a day that is likely conducive to the schedule of both the bureau agents and the Democratic presumptive nominee.
The FBI has already interviewed several key figures familiar with the case, including longtime aide Huma Abedin. The FBI has not found evidence that Clinton willfully violated any law during her time in the State Department; the security of the installed server has been front and center throughout this investigation, as well as the handling of classified information.
Bryan Pagliano, who set up and managed the remote server as a tech specialist before pleading the fifth in a Judicial Watch deposition last month, was also interviewed by the FBI. Pagliano spoke in exchange for an immunity agreement.
Following its investigation, the FBI will make its full recommendation to the Justice Department; earlier today, Attorney General Loretta Lynch said that she would accept any recommendation from the FBI and director James Comey regarding the investigation into Clinton's use of the server. Lynch's stance comes at the end of a controversial week that saw the Attorney General secretly meet with former President Bill Clinton in the unofficial Tarmac Summit that people from both parties decried as poor optics. "I certainly wouldn't do it again," admitted Lynch Friday.
Editor's Note: A previous version of this story incorrectly identified the day of the meeting as Sunday, not Saturday. The above version reflects the correction.
—
J.D. Durkin (@jiveDurkey) is an editorial producer and columnist at Mediaite.
[ht The Daily Caller]
Have a tip we should know? tips@mediaite.com