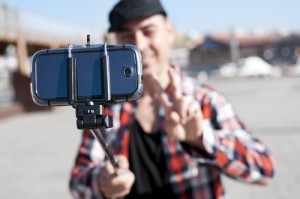 It's not even Friday, but the Washington Post decided to grace the Internet with the next #BabyHitler-esque open question. No, they're not asking if readers would go back in time and kill some other less terrible person whose name didn't rhyme with "Mitler," but they did bring up Millennials.
"'I'm more than a millennial. I'm a ____.' Tell us your story," reads the tweet from the official WaPo Twitter account. The article it links to, written by PostLive digital producer Meena Ganesan, asks readers between the ages of 18 and 34 to fill out a Google form.
"We'll share your responses here and at a summit The Washington Post is hosting Dec. 2, called inGENuitY, where entrepreneurs will discuss a generation upending industries, shifting economies and transforming society and culture."
So why is this #BabyHitler-esque? First, because many of the first responses offered "Hitler," "Baby Hitler" and similar alternatives as answers.
@washingtonpost Hitler no wait redo

— Ben Dreyfuss (@bendreyfuss) November 23, 2015
@bendreyfuss Baby Hitler. — Scott Bixby (@scottbix) November 23, 2015
Otherwise, the comparison fits since — just like the Internet's general response to #BabyHitler — most people aren't taking it seriously. Like, at all.
two millennials https://t.co/yGwCg4PfpY

— woke bloke, tally ho (@ChrisCaesar) November 23, 2015
This is just a fancy way of asking A/S/L. https://t.co/dJHqFmfrxK — Ashley Burns (@MayorBurnsy) November 23, 2015
I'm not a millennial. I'm you. @washingtonpost pic.twitter.com/o1budKWvqk

— Josh Feldman (@feldmaniac) November 23, 2015
"The kind of millennial who likes to talk about how I'm more than a millennial." https://t.co/yUxbakUfrZ

— Jonah Goldberg (@JonahNRO) November 23, 2015
The only correct answer, btw, is "I'm more than a millennial, I'm a millenarianist" said while parachuting knife-in-mouth onto your foes.

— Kelsey D. Atherton (@AthertonKD) November 23, 2015
MT @washingtonpost "I'm more than a millennial. I'm ___________." Tell us your story pic.twitter.com/AT6TGURaXI

— David Burge (@iowahawkblog) November 23, 2015
@washingtonpost "two millennials, standing on each other's shoulders, wearing a large coat"

— Ariel Edwards-Levy (@aedwardslevy) November 23, 2015
@washingtonpost just a guy rebuilding a '83 Dodge Viper in his garage WHILE simultaneously training to run a 12k & also I make a MEAN fajita

— Ben Dreyfuss (@bendreyfuss) November 23, 2015
@washingtonpost "Gen X."

— Philip Bump (@pbump) November 23, 2015
@washingtonpost tim

— Jeremy Barr (@jeremymbarr) November 23, 2015
.@washingtonpost dead inside

— Maya Kosoff (@mekosoff) November 23, 2015
— ಠ_ಠ (@MikeIsaac) November 23, 2015
@washingtonpost stop

— Justin Green (@JGreenDC) November 23, 2015
.@washingtonpost a god in this hood

— Miles Thanklee (@MilesKlee) November 23, 2015
@washingtonpost dehydrated

— Gabe Bergado (@gabebergado) November 23, 2015
[Image via screengrab]
— —
>> Follow Andrew Husband (@AndrewHusband) on Twitter
Have a tip we should know? tips@mediaite.com