Washington Post Opinion Writers Discover Narcissism… In Republicans
Rothman:
WaPo
Opinion Writers Discover Narcissism… In Republicans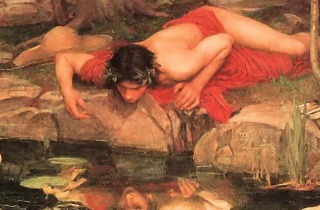 The scandal slowly consuming New Jersey Gov. Chris Christie's 2016 presidential potential has certainly put a damper on Republican hopes for a comeback. But for those conservatives who are looking for a silver lining to emerge from this controversy, they can look no further than the editorial pages of the Washington Post. There, conservatives will find that the Beltway paper's most notable columnists have discovered that "narcissism" can, in fact, be displayed by politicians.

While the personality flaws of Republicans are the most readily apparent to the Post's opinion writers, it leaves the nation with hope that the inflated sense of self-worth displayed by all politicians –- and particularly the President of the United States — may soon become apparent to the Post's thought leaders.
On Thursday, less than one hour after Christie concluded his marathon two-hour presser addressing the public's concerns over the closing of two lanes on the George Washington Bridge, the Post's Jonathan Capehart scolded Christie for his "me-me-mea culpa."
One wonders if Capehart began composing this piece prior to the close of Christie's presser. Nevertheless, after sifting through the transcripts, Capehart bristled with the number of first-person singular pronouns Christie used while seeking to alleviate the concerns of New Jersey residents.
"The longer Christie spoke the feistier he became," Capehart wrote. "The more he looked like he enjoyed the back-and-forth. The more he looked self-absorbed." He continued:
The entire spectacle revolved around how Christie felt. How he was deceived and lied to. How his trust was violated. How he was betrayed. How he was "humiliated." How he had nothing to do with "Bridge-gate." And he did this over and over again in a me-me-mea culpa that lasted an hour and a half.
Less than 24 hours later, the Post published the column again, only this time under the byline of Dana Milbank.
Taking aim at the "New Jersey narcissist," Milbank also noticed the conspicuous use of the word "I" in Christie's remarks.
"Even in disgrace, the New Jersey governor — and the nominal front-runner for the 2016 GOP nomination — managed to turn his nationally televised news conference into a forum on the virtues of his favorite subject: himself," Milbank scolded, adding:
Narcissism is the dominant theme in American politics today, and the man Christie would succeed in the Oval Office appears to suffer from an acute sense of his own righteousness.
Mirabile visu! Even the Post's Milbank has seen the light. Sure, Christie has embraced his celebrity in a fashion with which few, even his supporters, should be comfortable. A quick glimpse at the governor's rather mortifying post of his "best of 2013" GIFs on BuzzFeedconfirms how deeply Christie had given in to the warm embrace of his own fame.
But Milbank has also acknowledged, albeit obliquely, that narcissism is not a unique trait in politics and that first-person pronoun has also been used to the point of nausea by President Barack Obama. Credit where credit is due.
Let's see where Milbank takes us next on his journey of personal discovery…
"But Christie takes worship of self to a whole new level."
… never mind.
Sorry to offend the sensibilities of the Post's luminaries, but there is no "level" of narcissism to which Christie could aspire, much less achieve, which could transcend Obama's.
This is a president that greets every event –- from the anniversary of John F. Kennedy's assassination, to the death of Nelson Mandela, to the passing of Neil Armstrong, to Pearl Harbor Day, to the remembrance of Rosa Parks' ride, to his own chief of staff's birthday –- by sending out images of himself to his fans.
This is a president who, when asked what books he recommends his political opponents read to help them better understand politics, responds "my own."
This is a president who dismissed criticism of his office's unilateral delays, exemptions, and carve-outs relating to the Affordable Care Act, a series of objectively extra-constitutional acts, by explaining that "I'm not concerned about their opinions – very few of them, by the way, are lawyers, much less constitutional lawyers."
"Some of these folks think I usurp my authority by having the gall to win the presidency," Obama said earlier. "And I don't think that's a secret."
Had Capehart and Milbank recalled reading their own paper's review of the book by legendary Washington Post reporter Bob Woodward, they would remember that the Post noted that meticulously researched work painted a "portrait of Obama, sketched through a series of scenes from meeting rooms and phone calls, reveals a man perhaps a bit too confident in his negotiating skills and in his ability to understand his adversaries."
The examples of this president's high self-regard go on and on. It's flat-out embarrassing for the Post's editorial writers to deem the use of a few first-person pronouns amid a damage control presser the height of narcissism, even surpassing that of the president, when confronted with the litany of evidence above. That kind of an assertion is nothing more than partisan prattle and is beneath the Post.
It is, however, a welcome sight to see that the Post's opinion writers can identify narcissism, even if only in Republicans. It suggests that they are, in fact, capable of such empiricism. Perhaps they will get around to seeing it in the president when the political stakes are at their lowest for Obama.
…Maybe after the midterms.
[Photo via John William Waterhouse]
— —
> >Follow Noah Rothman (@NoahCRothman) on Twitter
Have a tip we should know? tips@mediaite.com