Washington Post Stealth-Edits Reagan Obituary, Covertly Removes Tasteless Lead Without Note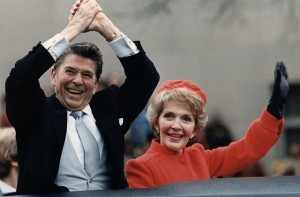 Want an idea why the public's trust in media is down 34 points since the Washington Post changed the course of history following Watergate? Here's a simple microcosm in easy-to-absorb bullet-point fashion:
– Lois Romano, clearly a left-leaning journalist with an anti-Republican agenda if her Twitter feed is remotely any indication, is chosen by the Washington Post to write Nancy Reagan's obituary. Like many obits for notable figures, this was written in advance to be ready for the moment (very common practice in print and broadcast journalism, no problem there)
– Upon publication on WashingtonPost.com Sunday morning almost immediately following the announcement of the passing, some — including me — see Romano's obit as a trashing of Mrs. Reagan in Kitty Kelly-meets-Perez-Hilton-like fashion. Particularly disgraceful is Romano's opening paragraph — the most important part of any column in terms of setting tone — in which she wrote the following (emphasis mine):
Nancy Reagan had an undeniable knack for inviting controversy. There were her extravagant spending habits at a time of double-digit unemployment, a chaotic relationship with her children and stepchildren that could rival a soap-opera plot, and the jaw-dropping news that she had insisted the White House abide by an astrologer when planning the president's schedule.
– A few hours later I write this column critical of Romano's obituary. The Mediaite column gets retweeted hundreds of times and has been read over 20,000 times on Mediaite at last count. Romano is clearly aware of the Mediaite column, as some appear to have sent it to her via social media while she's been active on her account. This isn't chest-bumping, it's about setting the table to the next (and critical) point in this timeline:
– Sometime Sunday evening, somebody — either Romano or an editor — stealth-edits the obituary by eliminating the lead paragraph in question altogether. Here's the new open:
Nancy Reagan, a former film actress whose crowning role was that of vigilant guardian of President Ronald Reagan's interests and legacy, died March 6 at her home in Los Angeles. She was 94.
– Despite the major change, Romano nor an editor inform readers any alterations to the piece were made
– Romano ignores Mediaite's request for comment on the matter
So much for accountability. According to Gallup, trust in media by the general public was at 74 percent following Bob Woodward and Carl Bernstein of the Washington Post blowing the lid off Watergate and bringing a sitting president down in the process. It's now at 40 percent and dropping.
We see the examples why every day. Forget the partisan blogs and social media… they are what they are. But the Washington Post must and always be held to the highest standard.
They say the cover-up is worse than the crime. Nobody is saying Lois Romano or the Washington Post committed a crime here. It was just an obituary even Romano or the paper or both acknowledge was in poor taste if the changes after the fact are any indication. And to just modify, eliminate without notification to readers in any capacity is not only sneaky, but stupid given the original copy is already very much out there.
Don't trust the media? You're not alone. And veteran journalists like Lois Romano — who has been in the business for nearly 40 years — should know better.
Problem is… she just doesn't seem to care.
— —
Follow Joe Concha on Twitter @JoeConchaTV
This is an opinion piece. The views expressed in this article are those of just the author.