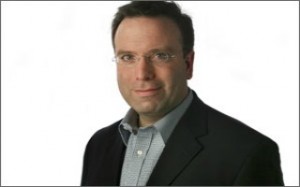 Washington Post columnist Dana Milbank hits President Barack Obama hard for his constant campaigning, even before the official start of his 2012 reelection effort. Milbank says that the President's actions are "making me queasy" and that his campaign is looking increasingly "sleazy."

RELATED: Dana Milbank And The Continued Crusade To Falsely Link Beck And Palin To Violence
"The preezy of the United Steezy is making me queasy," Milbank opens his column "President Obama, Campaigner in Chief."
I'm not troubled by President Obama's slow jam with Jimmy Fallon, who dubbed the commander in chief "preezy" during Obama's appearance on late-night TV. No, preezy is making me queasy because his nonstop campaigning is looking, well, sleazy — and his ad suggesting that Mitt Romney wouldn't have killed Osama bin Laden is just the beginning of it.
Milbank notes that Obama has now attended more campaign fundraisers over the course of his first term than his last five predecessors combined. Furthermore, despite the fact that the official start of Obama's reelection bid does not begin until May 5, Milbank writes "it's increasingly difficult to distinguish Obama's political events and speeches from the official ones."
Milbank does, however, say that Republicans who are attempting to make a political issue of Obama's perennial campaign will not get very far. Republican National Committee Chairman Reince Priebus' recent filing of an official complaint with the Government Accountability Office for President Obama's taxpayer funded campaign stops is doomed to failure.
The Republicans will get nowhere with that, just as Democrats failed when they made similar complaints about George W. Bush. Rules separating the official and the political are flimsy, and even when a president's campaign reimburses the Treasury, it's for a tiny fraction of the cost, which includes $179,750 per hour to operate Air Force One.
Still, Milbank seems uncomfortable with the prospect of Obama's campaigning under the auspices of official presidential business.
Obama's acquiescence to an intolerable status quo raises a question: Shouldn't presidential leadership be about setting an example?
h/t Washington Post
Have a tip we should know? tips@mediaite.com