WATCH: 'I'm Important! I'm Somebody!' Baptist Pastor Throws Epic 'Hissy Fit,' Berates Churchgoers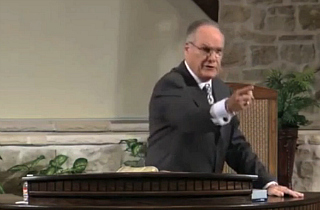 Fun times at the Immanuel Baptist Church of Skiatook, Oklahoma.
Recent video shows pastor Jim Standridge throwing what can only be described as an uncomfortably epic hissy-fit upon discovering one of his younger churchgoers had fallen asleep during his sermon.
"Don't you go to sleep while I'm talking?" Standridge said from his pulpit, looking directly at the snoozing churchgoer. "Hey! Hey! Don't you lay your head back!"
"I'm important. I'm somebody," the pastor continued as he stepped down from the pulpit and walked directly over to the unidentified sleepy male. "You may do your English teacher that way, but I'm not here teaching English. I'm teaching eternal life." Standridge walked over to the man, stood over him, and sternly told him: "You stay awake and you listen to me."
Instead of returning to his pulpit to continue the sermon, however, Standridge then took the opportunity to berate other churchgoers who've run afoul of him lately.
"And where have you been, Mr. Underwood?" the pastor said, pointing directly to another man in the audience. "And I noticed on the calendar, I'm supposed to marry y'all. What makes you think I'd marry you? You're one of the sorriest church members I have," he exclaimed as he walked towards the man seated with his fiancé.
He continued berating the man, telling him "You're not worth 15 cents!" before pointing at his bride-to-be and expressing befuddlement that she would consider marrying such a man who "doesn't know where he belongs." Standridge then turned to the rest of the crowd and expressed his "love for these kids," telling the "big boy" to stand up so he could shake his hand, hug him, and reassure him that he "loves" him.
"I'm the real deal," the pastor said as he walked away from the groom-to-be.
"You can't get this in any other church in town," he told the crowd, explaining that if they don't "want" him as pastor, he and his assistant can sell off the place of worship and move on down the road to some "podunk church."
"Stay with me! Don't quit me!" he shouted at individual attendees.
Standridge later set his sights on the church's "video guy," whose last name is Cox.
"He has a little attitude adjustment that we're gonna fix!" he shouted. "Brother Cox, you listening? Because, brother Cox, I can fix your attitude adjustment. I don't care what your momma thinks and your daddy thinks. And I don't have a better friend than your momma, but momma, you get out of my way when I'm messin' with that boy, because I'm his preacher!"
"That video room ain't gonna be a young hangout!" he continued, before yelling:
"If you loved me, and you submitted to me, you'd know what my heart is, and my message is, and you wouldn't go about establishing your own kingdom in the video room!"
"I feel really good now," the pastor said upon sipping from a bottle water, concluding his rant.
After video of the tirade circulated online, Standridge expressed little remorse. Speaking with the Barnsdall Times, he said, "I know I'm right, and I know I haven't done anything wrong." He also told the Huffington Post: "What concern is it of me what a carnal world thinks of this?"
Watch below, via YouTube:
[h/t Ian Schwartz]
— —
>> Follow Andrew Kirell (@AndrewKirell) on Twitter
Have a tip we should know? tips@mediaite.com