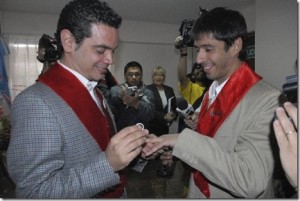 Despite the Supreme Court's recent rulings on DOMA and Proposition 8, nationally recognized gay marriage is still a ways away in the United States. There are a number of countries where gay marriage is the law of the land, and now Costa Rica joins its ranks. There's just one tiny little problem: they didn't mean to. Yes, the tiny Latin American nation legalized gay marriage completely by accident.
You may ask how this is possible. Even gay marriage opponents voted for the bill in question! So what happened? The short answer: they didn't read it.
This week, the Costa Rican Legislative Assembly voted for a change to its "Law of Young People", which covers social services and marriage laws. It was only once the bill had passed did unwitting conservative lawmakers realise that their liberal counterparts had inserted language that could open the door to civil unions for gay couples.

The controversial wording was written into the legislation by José María Villalta, a member of the left-wing Frente Amplio party.

"During the discussion in the first debate, we explained that the Law of Young People should be interpreted with this sense of opening to gays and no one objected," Villalta said afterwards. Given the lack of perceived opposition to his amendment, he proceeded to insert it into the bill. The text, which previously stated that only marriages between a man and a woman would be recognised, now extends "the right to recognition without discrimination contrary to human dignity."
Members of a country's national legislature voting on something without fully reading it? Get outta here!
Outraged Costa Ricans are demanding the president veto the bill, but it's very unlikely that's going to happen, so Costa Rica has now officially brought about serious social change by mere accident.
[Image via]
—–
Follow Josh Feldman on Twitter: @feldmaniac
Have a tip we should know? [email protected]
Josh Feldman - Senior Editor