'We Have a President Who Wants to Rip Health Care Away From Women': Chrissy Teigen After Postpartum Depression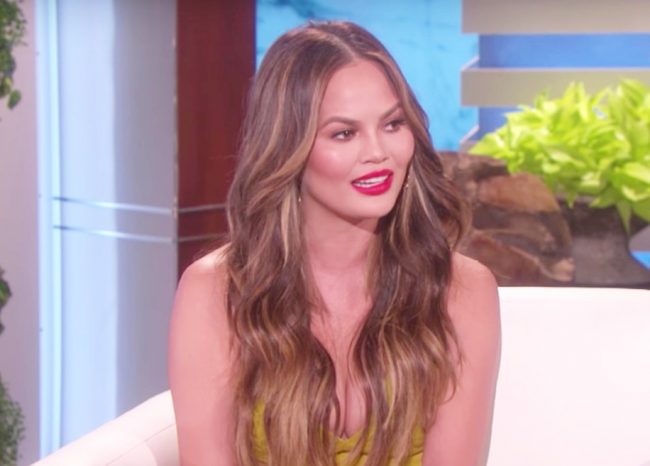 Queen of relatable content Chrissy Teigen published a personal essay in Glamour today. It's about her experience with postpartum depression, which affects one in nine women after they give birth. The whole thing is worth a thorough read, but for our purposes here at Mediaite, we want to zero in on that cozy little intersection of media and politics. (Emphasis mine.)
I also just didn't think it could happen to me. I have a great life. I have all the help I could need: John, my mother (who lives with us), a nanny. But postpartum does not discriminate. I couldn't control it. And that's part of the reason it took me so long to speak up: I felt selfish, icky, and weird saying aloud that I'm struggling. Sometimes I still do.

I know I might sound like a whiny, entitled girl. Plenty of people around the world in my situation have no help, no family, no access to medical care. I can't imagine not being able to go to the doctors that I need. It's hurtful to me to know that we have a president who wants to rip health care away from women. I look around every day and I don't know how people do it. I've never had more respect for mothers, especially mothers with postpartum depression.
After acknowledging that she does have more resources than the average person, Teigen — who very rarely shies away from the political — referenced Donald Trump's seemingly poor approach to women's health. Certainly, his administration's record on women's health (especially with regards to Planned Parenting and its funding) has caused alarm, as has his determination to "repeal and replace" the Affordable Care Act.
Teigen is not the first star to speak out about Planned Parenthood or women's rights under Trump, but her essay is still powerful and, again, worth that full read.
[image via screengrab]
——
Have a tip we should know? tips@mediaite.com