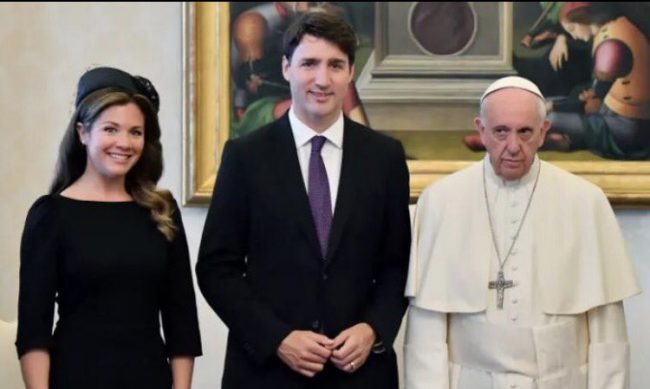 Donald Trump's trip abroad predictably drew mixed reviews. Much of the criticism, — particularly before the NATO portion of his visit — focused on some breathtakingly superfluous stuff.
Did Melania swat away Trump's hand in Israel? Look at Steve Bannon dancing awkwardly in Saudi Arabia. World Peach?
Amidst this Internet drivel, more than a bit of digital ink was spilled covering the "Pope Francis hates Donald Trump" narrative. The evidence? Well they had that bad blood during the election, remember? And the Pope gave him the encyclical he wrote — about climate change! Oh, and that photo with the Trump family — look how miserable he looked.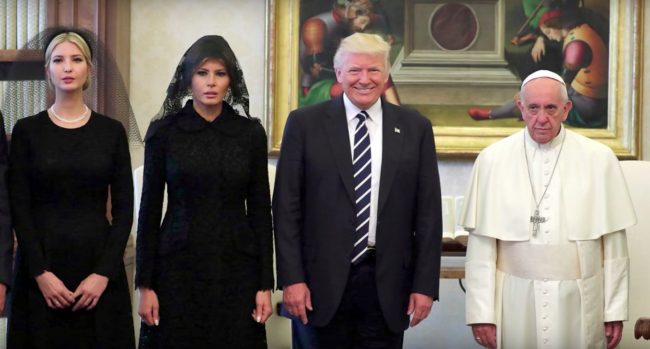 Well guess what — On Monday Pope Francis met was none other than liberal media woke dad, Prime Minister Justin Trudeau. The Canadian leader is so dreamy that virtually everywhere he goes he sparks memes of lusty women looking longingly — even Ivanka Trump was not immune.
Women looking at Justin Trudeau, I can relate pic.twitter.com/vGLv6LST6u

— Anges ? (@Dreanges) February 17, 2017
The Pope however, was not feeling it. Trudeau was in the Vatican where he and Francis discussed mostly parochial Canadian issues and then posed for a formal photograph with Trudeau's wife, Sophie.
That photo looked like this.
Prime Minister Justin Trudeau, and Sophie Gregoire-Trudeau, meet Pope Francis at the Vatican, May 29, 2017. Ettore Ferrari/Pool Photo via AP pic.twitter.com/4gTRAGkUzc

— The Canadian Press (@CdnPress) May 29, 2017
Of course, there has been no viral speculation about whether Francis secretly hates Justin Trudeau. Buzzfeed christened it "Resting Pope Face." — LOL guys. Something tells me you won't see memes of Trudeau's image with those photoshopped twins from The Shining, or jokes about Sophie Trudeau "dressing for the job she wants"
@realDonaldTrump Let's see…We've got Damian from "The Omen", The Twins from "The Shining", The Nun from "The Nun" & YOU…No wonder the Pope is frowning. pic.twitter.com/yIx4bxKM5S

— tRumpTinyGoldMember (@TrumpTiny_Gold) May 25, 2017
It's less "dress for the job you wish you had" and more "dress for the husband you wish was dead" pic.twitter.com/ZUKFYnHtf0

— Paul Verhoeven (@paulverhoeven) May 24, 2017
Watergate journalist Bob Woodward pointed out recently that his colleagues were "binge drinking the anti-Trump Kool-Aid" but he might as well have been speaking for all of us. Popes have been meeting with world leaders since Charlemagne, many of whom were even worse than Donald Trump. We shouldn't let silliness like this get in the way of the real successes and failures of the president's visit.
Oh and FYI… just in case you thought this was a recent thing.
@Rockben_Radio @realDonaldTrump Yeah and pope with resting face and Obama too. Try again pic.twitter.com/0co2FdQEOC

— Robin (@candlemaker52) May 30, 2017
[image via screengrab]
Follow Jon Levine on Twitter / Facebook.
This is an opinion piece. The views expressed in this article are those of just the author.