What To Know If You're Thinking Of Hiring Sarah Palin To Speak For Your Event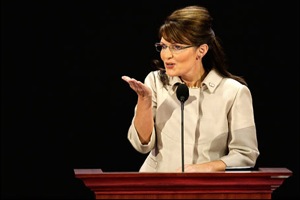 Planning a big event and looking for some talent to add color to your engagement? Well, thanks to some California State University students, we now have an idea of what it takes to book Sarah Palin to speak at your venue. Here's a run-down of the contract the students recovered from the trash bin outside of an administrative building shortly after Palin was booked to appear at the university's 50th anniversary gala, as well as a peek at the contract itself.
The contract, five pages long, includes directions for travel, accommodations, and a handy chart to help event organizers put together an efficient photo-op line. Most of the details are travel-related. The customer must provide for all air and ground travel, and the former must be either commercial first class or private jet. The private jet must be a Lear 60 for West Coast engagements or Hawker 800 for East Coast ones, and it also requires Palin to be given the co-pilots' name, social security number, and cell phone within 14 days of signing the contract. Hotel accommodations must be approved beforehand and paid for by the customer, as well as all means and incidentals. And– very important– all hotel accommodations must be registered by an alias.
While the most nitpicky requests are clearly for security purposes, there are some less-than-necessary details, like beverage requirements for speaking engagements (exactly two bottles of water with bendable straws), skirted tables, all promotional material must be submitted in English, and, among the more eyebrow-raising details, "customer shall provide a list of media outlets expected to attend Speaker's presentation 10 days in advance of event date," presumably to be screened by the Palin team beforehand. Perhaps most questionably of all is that Palin's contract specifies that, during international events, Palin reserves the right to meet with that nation's top leaders, including the head of state and ministers. And, of course, the part you should worry about the most if you book her is the appearance of the phrase "the speaker reserves the right to change her mind at any time."
Below you'll be able to read the contract itself, along with a look at the graph for suggested organization of photo-ops:
Have a tip we should know? tips@mediaite.com