When Old Media Meets New Media: Rocketboom Teaches David Shuster About Keyboard Cat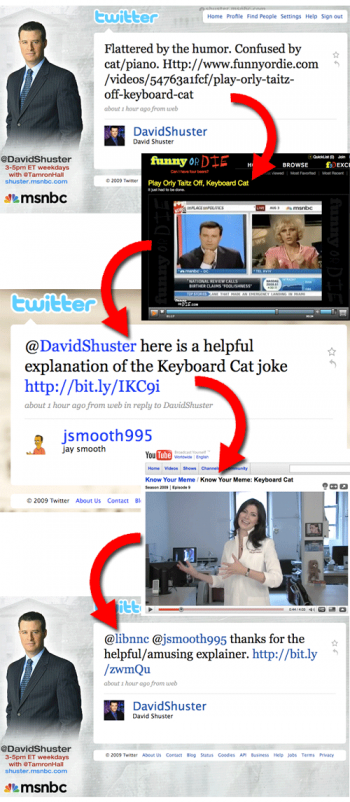 Oh-ho, David Shuster got SCHOOLED! No, actually, he got schooled – Twitter can be a very helpful place and when the MSNBC host was confused, the mavens of new media were there to help him.
In this case it was a plaintive tweet sent Wednesday, proclaiming his confusion with now-infamous MSNBC guest and Birther spokeslady Orly Taitz being played off by the actually-more-infamous-in-certain-circles Keyboard Cat.
Keyboard Cat, dear newbies, is one of those "memes" that the Internet is famous for — a recurring motif that goes viral, cropping up across the board in jokes, references and applications, an "in joke" enjoyed by the Internerds and beyond. The Meghan Fox rose picture is a good recent example. "Keyboard Cat" started with a video of a cat named Fatso "playing" the synthesizer, which went viral and then morphed into the Internet's version of a cane pulling you offstage or getting gonged on The Gong Show — or, more recently, having the music swell around you during an overlong acceptance speech as it "plays you off." For people deserving of a hasty exit, Keyboard Cat is that.
Enter Jay Smooth, creator of hip hop music blog Ill Doctrine and founder WBAI's Underground Railroad, New York's longest running hip-hop radio show. In a gesture of Twitter-driven magnanimity, he tweeted out to Shuster the answer to his problem: Rocketboom's "Know Your Meme," a frequent series produced by the web-based video show. In this case, Rocketboomers Elspeth Jane Rountree and Jamie Wilkinson (aka Jamie Dubs) knew the "Keyboard Cat" meme, and explained it far less clunkily than I just did (this equation sums it up: "FAIL + Cat Playing Keyboard = PLAY HIM OFF"). David Shuster watched, learned, and Old Media learned something from New Media, with an extra helping of LOL's for good measure.
The moral of the story? (a) Twitter brings us together; (b) Rocketboom people have cool names (especially considering I pilfered this illustration – with permission! – from Kenyatta Cheese; and (c) this post is way longer than necessary, considering it's more than adequately represented in the illustration. Which means I'm done. Keyboard Cat, take it away.
Related Educational Video: Know Your Meme: Keyboard Cat [Rocketboom]
Have a tip we should know? [email protected]