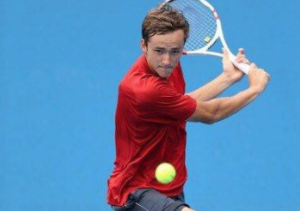 In the middle of a comeback match just days ago at a Savannah Challenger United States Tennis Association event, 20-year-old Danill Medvedev from Russia earned himself an automatic disqualification after exchanging heated words with the umpire.
The incident dealt with calling into question the authenticity of the umpire's ruling, considering she was African-American just like Medvedev's opponent, Donald Young. The unsportsmanlike conduct ruling was issued immediately after Medvedev was caught by microphones saying, in part, "…I know that you are friends. I am sure about it."
According to the New York Post on the incident:
At the end of the game, tournament supervisor Keith Crossland was called to the court by French to discuss Medvedev's behavior. After a lengthy discussion with Medvedev, Crossland walked over to French in the umpire's chair and appeared to give his consent for the match to be handed to Young through an unsportsmanlike default against Medvedev.
The gathered crowd was unsure of what had happened during and immediately following the exchange, until the chair umpire announced, "Game. Set. Match. Young. 4-1. Default."
Although microphones did not pick up the full exchange from Medvedev (who is ranked #260 in the world), there is "understandable speculation" that the some of the tennis player's rhetoric was far more inflammatory than what was otherwise detected. "I wish we'd picked up what Medvedev said because it must have been pretty bad," color commentator Mike Cation mentioned following the abruptly-ending match.
Medvedev took to Facebook to apologize for the exchange, admitting, "I let the emotion take over and lost my temper for which I am genuinely sorry."
—
J.D. Durkin (@jiveDurkey) is a columnist at Mediaite.
[image via Facebook]
Have a tip we should know? tips@mediaite.com