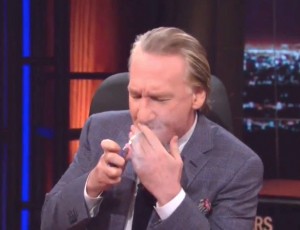 We already know that tonight's Real Time guest Killer Mike loves to roll up, as does Bill Maher. Hell, Zach Galifianakis smoked on the show once, no matter how hard Maher tried to deny it. With Mike in the studio, tonight was the perfect time for Maher to release a seven-minute tirade against those who stand in the way of country-wide legalized marijuana.
First, he clapped back at President Barack Obama's tepid comments that the "bad habit" is no worse than alcohol, saying "It's not a bad habit, it's a fantastic habit."
The, he got serious:
Somehow, this is the year that everything from socialism to mass deportation is on the table and voters love the authentic guys who speak their minds, but when it comes time for Congress to consider common-sense pot legislation, it's like smoking a joint with Woody Harrelson; they just won't pass it!
He then went on to compare and contrast the legalization of marijuana with gay marriage, which he has done before. He hypothesized that legalization of weed is taking so long because, unlike with same-sex marriage, DEA agents, police officers, and prisons stand to lose a whole lot of money if the War on Drugs is called off. So too would pharmaceutical companies and breweries, along with the stores that carry their products.
He attacked states that are taking away rights and then, he went out in a blaze of glory: The medical marijuana card-carrying user just lit up a joint.
[image via screengrab]
For more from Lindsey, follow her on Twitter.
Have a tip we should know? tips@mediaite.com