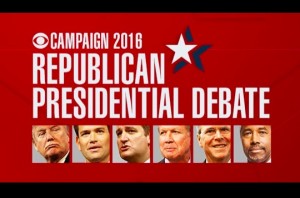 And then there were six.
The remaining field of GOP candidates eyeing for the Republican party nomination will square off tonight in South Carolina for a debate broadcast by CBS News. Face the Nation anchor and CBS News political director John Dickerson will be the main moderator for the event. Joining him will be CBS News White House correspondent Major Garrett and The Wall Street Journal's Kimberley Strassel.
The candidates who will be taking the stage are Donald Trump, Ted Cruz, Marco Rubio, Jeb Bush, Ben Carson and John Kasich. Trump is coming off of a decisive victory in New Hampshire, and hopes that a softer-toned approach will win over the constituents in South Carolina as well. Meanwhile Florida Senator Marco Rubio will be debating for the first time since being outed last weekend for his repetitive phrases that seem to have dogged him to a lowly fifth place in New Hampshire this past Tuesday.
The debate will air live on CBS from 9 p.m. to 11 p.m. ET on Saturday, and network's digital streaming service, CBSN, will offer extensive coverage before, during and after the debate.
This is the final debate before the state-wide primary which will be held on Saturday, February 20. Ohio Governor John Kasich is looking to keep the momentum of his campaign going after an impressive second place finish in the Granite State.
In order to qualify for this debate, candidates had to meet one of the following criteria:
1) Place among the top five candidates ranked according to the popular vote in the New Hampshire Republican primary on Feb. 9;

2) Have placed among the top three candidates ranked according to the popular vote in the Iowa Republican caucuses on Feb. 1;

3) Place among the top five candidates in an average of national and South Carolina Republican presidential polls conducted over a four-week period starting on Jan. 15, 2016 and recognized by CBS News; and receive a minimum of 3 percent in the Iowa, New Hampshire results or the South Carolina or national polls. To be included, polls must be conducted and released to the public before 12 p.m. ET on Feb. 12, 2016.
Have a tip we should know? tips@mediaite.com