White House Officials Reportedly Worried FBI Director Wray Will Resign Over #ReleaseTheMemo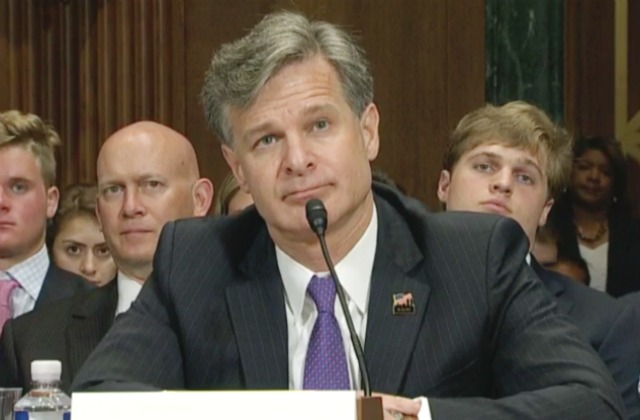 As the intrigue around #ReleasetheMemo gets hotter and hotter, a new report suggests that FBI Director Christopher Wray might quit if the House Intelligence Committee's controversial memo goes public.
CNN reports that multiple White House sources have expressed concern that Wray will walk away if Devin Nunes' memo on alleged Obama-era FISA abuses comes out. Indications are that the White House has agreed to certain redactions to the memo, and will send it back to the Committee with a final decision on whether to give it the green light. It is believed that President Trump wants the memo to be released, having said as much earlier this week.
From the report:
Wray has made clear he is frustrated that President Donald Trump picked him to lead the FBI after he fired FBI Director James Comey in May, yet his advice on the Nunes memo is being disregarded and cast as part of the purported partisan leadership of the FBI, according to a senior law enforcement official.

Wray's stance is "raising hell," one source familiar with the matter said.
While the White House reportedly hopes their redactions will garner Wray's approval, they aren't sure whether it'll be enough to satisfy him. This development comes amid the recent reports that Wray threatened to resign once before, when the Trump Administration tried to pressure him into firing Deputy Director Andrew McCabe. McCabe announced his departure earlier this week after months of slams from the president.
Sources told CNN that Chief of Staff John Kelly thinks its quite possible Wray could resign over this controversy. However, other sources have said that Wray has never directly threatened to resign, which corroborates reporting from NBC.
Per @PeteWilliamsNBC #ChrisWray has no intention of quitting if memo is released over his objections

— Andrea Mitchell (@mitchellreports) February 1, 2018
Wray is against the memo's release, having reportedly said that the documents depict a "false narrative" of FBI practices. House Intel Ranking Democrat Adam Schiff has spoken to reporters about the memo, claiming that Nunes made unapproved edits to the version sent to the White House for Trump's review.
In the event of an impasse between Trump and Wray, the FBI Agents Association has released an announcement suggesting they will support the director.
Statement from the FBI Agents Association voicing support for FBI Director Chris Wray in the wake of Nunes memo controversy:

"The FBI Agents Association appreciates FBI Director Chris Wray standing shoulder to shoulder with the men and women of the FBI" pic.twitter.com/eJc4J8TQr4

— NBC Politics (@NBCPolitics) February 1, 2018
Never a dull moment.
[Image via screengrab]
— —
>> Follow Ken Meyer (@KenMeyer91) on Twitter
Have a tip we should know? tips@mediaite.com