FBI Director Reportedly Against Memo Release Because It 'Paints a False Narrative'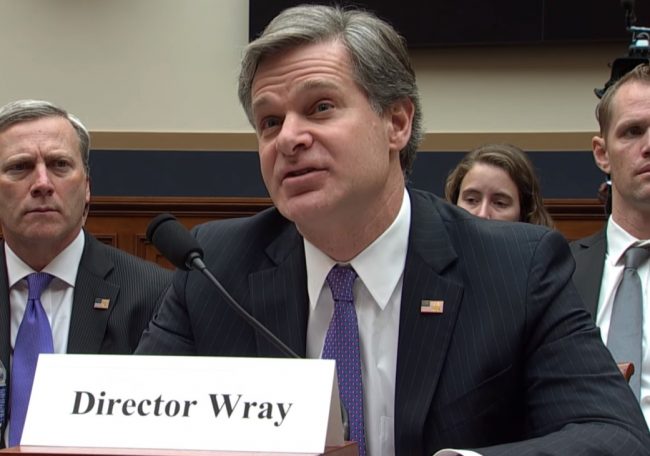 After a viral hot mic episode last night in which President Donald Trump appeared to promise that he'd "100 percent" release the famed classified GOP memo accusing the so-called "deep state" of bias,  FBI Director Christopher Wray is reportedly saying not-so-fast.
According to sources who spoke to Bloomberg, Wray informed White House officials the memo — which targets the FBI and Justice Department — should not be published as it is not fully accurate and it "paints a false narrative."
The document in question was created by House Intelligence Committee staffers and GOP lawmaker Devin Nunes, and seemingly looks to discredit Special Counsel Robert Mueller's investigation into potential Trump-Russia election collusion.
Although Wray has already read the full memo and still wishes for it to remain classified, the FBI doesn't actually have the power to keep the information unreleased. Instead, a vote from the House Intelligence panel decides whether or not to release the document.
However, Trump has already vowed to release the memo, telling a GOP lawmaker after the State of the Union last night to not "worry, as he will "100 percent" release it.
The memo has stirred up lots of outrage and conspiracies among right-wing media outlets, as everyone from Infowars to Sean Hannity have speculated that it will lead to the downfall of Mueller and his team — damaging their reputation by outing them as overtly anti-Trump, or so the theory goes.
White House Press Secretary Sarah Huckabee Sanders does not appear to be on the same page as Trump, though. Following Trump's SOTU last night, Sanders told the press, "Contrary to a published report, there are no current plans to release the House Intelligence Committee's memo. The president has not seen or been briefed on the memo or reviewed its contents."
[image via screengrab]
Follow the author on Twitter (@calebecarma).
Have a tip we should know? tips@mediaite.com