Journalists Bash PolitiFact For New Reader Advocate: A Politician Who Once Threatened a Reporter [UPDATED]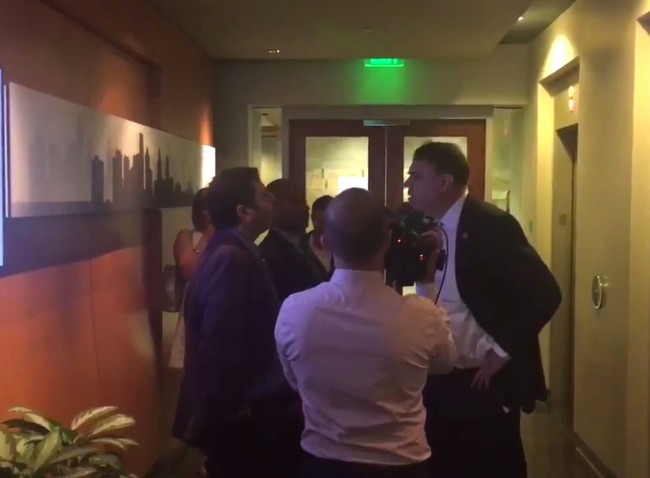 Earlier today, fact-checking site PolitiFact announced that they were trying out a new experiment. Stating that this experiment will initially run until the end of April, the site added ex-Republican Congressman David Jolly and former Democratic Congressman Alan Grayson as their first-ever reader advocates.
While PolitiFact seemed especially proud of itself for bringing on the two former lawmakers to help critique their fact-checks, journalists and reporters weren't nearly as impressed. Why? Well, it could have something to do with that a little 2016 incident in which Grayson threatened to have a Politico reporter arrested.
Below is just a sampling of media members tearing into PolitiFact:
is this a joke? Alan Grayson harassed my colleague @IsaacDovere after i wrote a story with @BresPolitico and @MarcACaputo about allegations of domestic abuse. https://t.co/RkipNxtQgB

— Jake Sherman (@JakeSherman) February 1, 2018
I'm here ?? to join the pile on about hiring Alan Grayson, who threatens reporters. Dumb move. https://t.co/m83jnrjEgu

— andrew kaczynski? (@KFILE) February 1, 2018
Alan Grayson was accused of domestic abuse and then menaced a reporter for the outlet that reported it https://t.co/b05Fk50QDEhttps://t.co/CwecbyaYvE

— Alex Burns (@alexburnsNYT) February 1, 2018
SHOT: Alan Grayson named PolitiFact reader advocate.

CHASER: "Grayson threatens to have POLITICO reporter arrested"https://t.co/mjlPlYoTxk

— Josh Kraushaar (@HotlineJosh) February 1, 2018
Yes, it's absurd that PolitiFact is giving Alan Grayson a perch. But also, he's already technically a candidate for office! pic.twitter.com/pdGF7IXIhV

— Lachlan Markay (@lachlan) February 1, 2018
I'm embarrassed for you Politifact. Alan Grayson??? https://t.co/iyEIyYkYcs

— Yashar Ali ? (@yashar) February 1, 2018
A fact-checking outfit hiring Alan Grayson is like a church hiring Charlie Sheen to run their youth group. https://t.co/v1zsoEgk69

— Dan McLaughlin (@baseballcrank) February 1, 2018
.@Politifact has secured the services of former Dem. Rep. Alan Grayson as one of two reader reps. https://t.co/3JYk0zH8iU Gray Yet Grayson once threatened to have a @politico reporter arrested. Statement from P-Fact's Aaron Sharockman: pic.twitter.com/HFvPyw2VCv

— ErikWemple (@ErikWemple) February 1, 2018
This is an unreal, clueless, and tone-deaf response from @PolitiFact over their inexplicable decision to hire Alan Grayson as a *fact-checker* https://t.co/IysBM44Yjq

— Daily Kos Elections (@DKElections) February 1, 2018
Journalist Yashar Ali made sure to tweet out a video of Grayson threatening the reporter while calling PolitiFact's decision "shameful."
Here is former Congressman @AlanGrayson threatening to have Politico's @IsaacDovere arrested… @PolitiFact has just announced that they're bringing Grayson on to "serve as reader advocate for PolitiFact…critiquing our work and publishing on https://t.co/8q55Id18Vr"

Shameful. pic.twitter.com/HyruWew2Dh

— Yashar Ali ? (@yashar) February 1, 2018
The reporter that Grayson threatened, Edward-Isaac Dovere, had this to say today:
fun fact: @AlanGrayson never made even a show of apologizing for pushing me or lying about it

— Edward-Isaac Dovere (@IsaacDovere) February 1, 2018
UPDATE 3:52 p.m. EST 
It looks like PolitiFact was paying attention to this burgeoning scandal. The site has dumped Grayson, releasing a statement on the matter via Twitter.
[image via screengrab]
—
Follow Justin Baragona on Twitter: @justinbaragona
Have a tip we should know? tips@mediaite.com