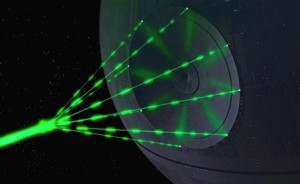 The White House's "We the People" petition website has been a haven for some of the most unique requests from the general public, including those recent ones in a few states to secede from the nation. A lot of them attempt to realistically address the problems of our times, and then there's all the wishful thinking. Case in point, a petition demanding that the government begin construction on its own Death Star by 2016. It's a fairly typical example of trolling on the petition site, except in the past few weeks it's gotten over 15,000 signatures.
RELATED: This Exists: White House Issues Response To Online Petition Over Extraterrestrial Life
Unless this is some genius kind of marketing ploy by LucasFilm and Disney for Star Wars Episode VII, the petition was posted to the website by someone who clearly must be a huge sci-fi fan.
Those who sign here petition the United States government to secure funding and resources, and begin construction on a Death Star by 2016.

By focusing our defense resources into a space-superiority platform and weapon system such as a Death Star, the government can spur job creation in the fields of construction, engineering, space exploration, and more, and strengthen our national defense.
Technically speaking, the petition needs only ten thousand more signatures in order to warrant an official response from the White House.
But really, if you're going to post any Star Wars-related petitions, shouldn't it be for an executive order to absolutely exclude Jar Jar Binks from the new trilogy?
h/t Fox News
—–
Follow Josh Feldman on Twitter: @feldmaniac
Have a tip we should know? tips@mediaite.com
Josh Feldman - Senior Editor