'White People Crazy': Buzzfeed Promotes Rap Anthem That Says Obama Is a White Person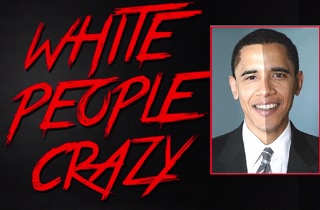 According to Buzzfeed's Ryan Broderick, "White People Crazy" is the "Rap Anthem You've Been Waiting For," by anonymous masked rapper Rawcus. The viral hit is replete with observations about white people, but Rawcus actually name-checks several black people in his litany as well, including Will.i.am, Nick Cannon, and President Obama. Twice.
The video for the song features clip after clip of white people engaging in hilarious Youtube fails, in front of a Mystery Science Theater 3000-style silhouette audience (a nice touch), and stills accompanying the shout-outs, including the one above. The lyrics are intermittently funny, but mostly repetitive, and the beat is a thin, bass-starved crunk leftover. Perhaps the funniest part of it is Rawcus' solicitation for iTunes hits at the end.
While the song has gotten attention elsewhere on the internet, none gave as throaty or unqualified an endorsement as Buzzfeed, which makes it weird that they didn't include a link to his website or his iTunes. They do include Rawcus' hilarious response to the question of whether the song is racist: "Nahhhhhhhhhhh"
The song does present an interesting dilemma for aggrieved white people, who might be tempted to cry "reverse racism," but also might enjoy the fact that Rawcus takes shots at President Obama. TheGrio.com's Kyle Harvey asks its readers if the video is "Funny or Offensive?", but notes:
Humor based off racial stereotypes can be potentially offensive, but the YouTube comments left for Rawcus' video appear overwhelmingly positive.
There is one question that isn't being asked. On his decision to remain anonymous, Rawcus says:
With the things I want to say, it's a much safer decision that no one knows who I am or what I look like. I'm just being careful. The mystery of who I am just adds more and more to the draw and talk about me. I don't mind that. IT'S RAWCUS!
What he doesn't say, and what no one is asking, is whether the Atlanta rapper is a crazy white person himself (his bio doesn't say), a fact that might have a bearing on reactions to the tune. Black people insulting other black people for excessive whiteness is controversial on its own, but a white person doing the same takes it to another level.
Here's the (NSFW) video, from YouTube:
Have a tip we should know? tips@mediaite.com