Who is Kate del Castillo, the Actress Who Brokered El Chapo's Interview with Sean Penn?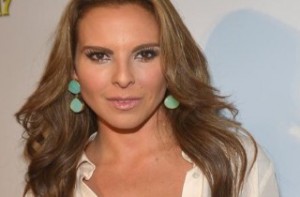 Last night, an interview conducted by actor Sean Penn with recently-captured drug lord El Chapo hit the Internet with a bang. In a video accompanying the text, the notorious kingpin says, ""I want to make clear that this interview is for the exclusive use of Miss Kate del Castillo and Mister Sean Penn." There are still a lot of unanswered questions about this murky interview, but one of the most unexpected ones is, who is Kate del Castillo? (That's the question in America, at any rate; Castillo is considerably more famous south of the border.)
The accomplished Mexican actress has a history of playing crime bosses on TV is in her early 40s and is the daughter of famed actor, screenwriter, and director, Eric del Castillo. She has made headlines here and there for her high-profile marriages and her house being broken into. Oh, and four years ago, she posted to social media that she believed "more in El Chapo Guzman than in the governments that hide the truth from me even though it is painful." The post also included pleas with the man to "traffic in goodness" and "[burn] all the pimps that treat a woman like she's worth no more than a pack of cigarettes."
Prior to his arrest last week, El Chapo was somewhat of a pen pal with del Castillo, who not only had a great deal of faith in him, but who was being tapped to help the cartel create a biopic about the criminal's life.
Finally, del Castillo is an American citizen. Not only that, but she is a citizen with strong political opinions.
FYI @realDonaldTrump I'm a #newUScitizen I SPEAK OUT & I don't support you or your #animalkiller son #fuerzalatinapic.twitter.com/N9iKOxEKOW

— kate del castillo (@katedelcastillo) September 22, 2015
Only time will tell how that will go for her following her investigation by Mexican authorities and rumored appearance at next spring's White House Correspondents' Dinner.
Image via screengrab.
For more from Lindsey, follow her on Twitter.
Have a tip we should know? tips@mediaite.com