Why America Is Doomed: We Riot For Waffle Irons And Disgraced Football Coaches
Why America Is Doomed: We Riot For Waffle Irons And Disgraced Coaches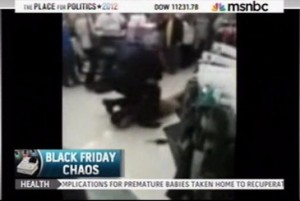 Even as political violence rocks Tahrir Square, epicenter of the Arab Spring, and the Occupy Wall Street movement struggles to retain its momentum, a decidedly lower-stakes variety of unrest has taken hold of average Americans. Call it the Doorbuster Revolution. Following a day of media-stoked hype over deeply discounted retail goods, unruly Black Friday shoppers have been pepper-sprayed at least twice, rioted over waffle irons, and now, as MSNBC reports, tased into submission.
That is not to say that authorities have acted properly in every case. According to news accounts, for instance, off-duty police security personnel pepper-sprayed a crowd at a North Carolina Wal Mart because they mistakenly thought a fight had broken out. In another incident, a shopper sprayed fellow bargain-hunters in order to keep them away from her desired merch. In a viral video shot at a Wal Mart in Pine Bluff, Arkansas, there was no security in evidence as shoppers decimated the store's supply of $2 waffle irons like a school of agitated piranha.
Now, MSNBC is reporting that police tased a shopper, who was allegedly drunk, in an Alabama Wal Mart today:
The common thread in these stories is the gusto with which these crowds have swallowed the Black Friday consumerist hype, hook, line, sinker, and rod. Sadly, this is nothing new, and in fact, we live in a time and place in which we must count our blessings that the rush for bargains hasn't resulted in death this time.
It's true that this country has a long history of protesting about things that matter, but what makes these incidents so telling is their spontaneity. Protests like the Tea Party and Occupy Wall Street are active expressions of a set of premeditated priorities. These hysterical shoppers, though, are reacting to Pavlovian stimuli that reveal a more visceral, and far less noble, set of priorities.
In much the same way, the spontaneous protesting and rioting that attended the firing of Penn State head football coach Joe Paterno was a real-time expression of support for a man who covered up the alleged rape and sexual assault of children, out of loyalty to his football team. While the rest of the world fights for freedom, we fight for JoePa and XBox.
Sure, there's plenty of blame to go around. From the sounds of it, the retailers behind this Black Friday hype aren't doing nearly enough to keep shoppers safe, and it's probably a happy accident that this hasn't been worse. Anyone who has ever been in a crushing crowd situation can tell you that there's a fine line between a non-lethal, slapstick-fueled incident, and tragedy. As I mentioned before, the national news media have contributed greatly to the hysteria, then reaped the "rewards" of the "crazy shopper" stories that ensued.
However, at a certain point, a grown-assed person has to be able to look at their reflection in the Wal Mart window, as they jostle with the waiting throng for a shot at some cheap shit that was made possible by the decimation of our own manufacturing base, and say "What the eff am I doing here?"
You're all being fed your own lost jobs, and rioting over the privilege. It's like some kind of consumerist Soylent Green. It took years of frustration and despair, along with a healthy amount of organizing, to get people to Occupy Wall Street, and only a cartoon Rollback happy face to get even more people to Occupy Wal Mart. Just as Newt Gingrich told the Wall Street Occupiers to "take a bath," let me be the first to tell the Occupy Wal Mart-ers to take a pill.
Have a tip we should know? tips@mediaite.com