Women's College Theater Group Retires Vagina Monologues Because It's Not Inclusive Enough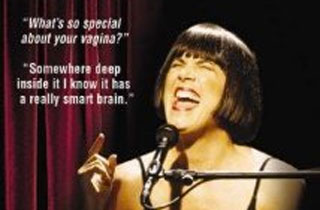 A theater group at an all-women's college in Massachusetts is drawing criticism on campus for canceling their annual production of feminist classic The Vagina Monologues, on the grounds that it's not inclusive enough.
Campus Reform published a school-wide email sent by Mount Holyoke's Project Theatre Board, in which they announced they were retiring the play. "At its core, the show offers an extremely narrow perspective on what it means to be a woman," explained group representative Erin Murphy:
"Gender is a wide and varied experience, one that cannot simply be reduced to biological or anatomical distinctions, and many of us who have participated in the show have grown increasingly uncomfortable presenting material that is inherently reductionist and exclusive," the email, obtained by Campus Reform, said.

Replacing the play will be Mount Holyoke's own version that will be trans-inclusive and fix the "problems" supposedly perpetuated by Ensler. Murphy also claims that there are problems with race, class, and "other identities" within the play.
The all-women's college, which recently began admitting trans students, really could have just announced that they were writing an all-original play called Compelling Monologues About Non-Normative Gender Experiences; or, Hooray for Intersectionality, but the cancellation — along with the rationale behind it — is being met with intense debate from the Mount Holyoke community, with many wondering whether the jab at The Vagina Monologues and its purpose (people talking about having vaginas) was necessary.
"I love how people who have never been able to discuss or embrace their vaj-wahs aren't going to find an avenue here, either, since female-validating talk about vaginas is now forbidden. That's so misogynistic under the guise of 'progress,'" one student wrote.

"But we can't present a show that is blatantly transphobic and treats race and homosexuality questionably, when one of the conditions of getting the rights to the show is that you can't critique it or alter it," another student said.
It bears mentioning that while The Vagina Monologues became a standard-bearer for 1996-era feminisim, it's also received plenty of criticism for its treatment of race, both in an academic and pragmatic sense (particularly as a fundraising vehicle for organizations that focus on what can best be described as first-world white woman problems).
But as early as 2004, Ensler updated her play with a monologue called "They Beat The Girl Out of My Boy," which came from a series of interviews she did with transwomen about their experiences transitioning from male to female. The monologue was first performed at an all-transwoman production of The Vagina Monologues in Los Angeles, and transgender activists Calpernia Addams and Leslie Townsend performed it at the show's 10th anniversary celebration in the Superdome.
[Campus Reform]
[Image via HBO]
—
>> Follow Tina Nguyen (@Tina_Nguyen) on Twitter
Have a tip we should know? tips@mediaite.com