Wonkette Alums Invade Conde Nast: A Sign Blogs and Magazines can Coexist Peacefully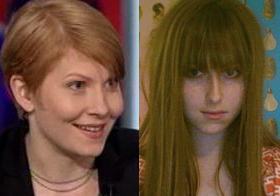 Political satire blog Wonkette is making its mark on magazine giant Conde Nast. Two Wonkette alums separately announced today that they are joining magazines within the Conde Nast family. Original Wonketteer Ana Marie Cox, who has also worked for Time and the now-defunct Air America Radio, became the newest addition to the GQ staff earlier today as a Washington correspondent, where she will be contributing features to the print edition as well as daily pieces on GQ.com. In a separate announcement, former Wonkette intern and current editor Juli Weiner thanked readers for their support there and directed them to the Vanity Fair blog VF Daily, where she will begin writing on Monday.
For such a mainstream print media association, acquiring talents developed at the shamelessly vulgar, hilariously quirky self-described "friendly little warblog" is a bold step to take, even if the simultaneous hirings were unintentional. While Cox has overshadowed her role as the blog's founder with many other distinguished lines on her resume and Weiner will be tempted to stray from her political pedigree at a cultural institution like Vanity Fair, both writers are direct products of a new medium that has directly caused a great number of headaches at newspapers and magazines. That their training ground was on the freewheeling extreme of the already irreverent blogophere goes beyond a statement: it's a commitment to keep one foot in the murkier waters of the political world and attracting a new audience to talent bred online, possibly hoping the favor will be reciprocated. Welcoming Cox to GQ was of particular political signficance, as Michael Calderone explains at Politico. It is a sign the magazine would like a greater voice in the political media community, and "looks like a way for the magazine to maintain more of a daily presence in the capital."
The influx of bloggers into the print world their existence threatens to destroy is a good sign for the latter, and an olive branch to the former indicating that perhaps there can be some form of peaceful coexistence. Conde Nast has nothing to lose from the merger, and blogs like Wonkette are becoming, in their own way, polished and seasoned institutions that can be trusted to produce "Conde Nast-level" talent.
Have a tip we should know? tips@mediaite.com