'Worst Column Ever': NY Post Writer Takes Immense Heat for Trashing Football Star's Character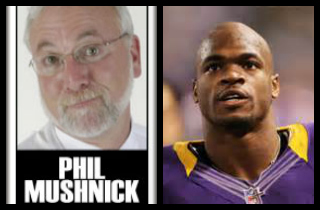 So it's safe to say the Internet, the sports world, and pretty much everyone ever absolutely hated Phil Mushnick's New York Post column questioning the character of Adrian Peterson in light of the tragic death of the NFL star's two-year-old son.

Don't believe us? Here's a sampling of response headlines from around the country:
What got everyone so worked up?
Well, first, here's background: Peterson's two-year-old son was recently killed in a fit of alleged abuse by the child's mother's boyfriend, Joseph Patterson. Hours after the murder became national news, Peterson declared himself "ready" to play more football and honor his son the only way he knows how. The sports press heaped praise upon the character of a man clearly wracked by tragedy.
Now back to Mushnick. In his column, he decided to hell with that narrative. In his mind, the media praise for Peterson, he asserted, was unfounded because, well, Peterson's just not a great guy:
Thus it was unsurprising Peterson's downside went ignored. In 2009, he was busted for driving 109 mph in a 55 mph zone. He dismissed that as no big deal, which was doubly disturbing — his older, full brother was killed by a reckless driver.

Last summer, Peterson was in a club when he and friends were informed that it was closing time, past 2 a.m. Apparently, Peterson and pals felt they would decide when it was time to close. The police report noted three cops were needed to subdue Peterson.

He spent the rest of the night in jail, arrested for resisting arrest (a charge that was later dismissed).
Oh, there's more. Mushnick also somehow finds a way to place a little blame on Peterson himself for the death of his child:
The suspect in the beating murder of Peterson's 2-year-old is the boyfriend of Peterson's "baby mama" — now the casual, flippant, detestable and common buzz-phrase for absentee, wham-bam fatherhood.

The accused, Joseph Patterson, previously was hit with domestic assault and abuse charges.

With his resources, how could Peterson, the NFL's MVP, have allowed his son to remain in such an environment? Did he not know, or not care? Or not care to know? Or not know to care?

Peterson couldn't have provided his son a better life, a longer life?

Money can't buy love, but having signed a $96 million deal, he could not have provided his child — apparently his second from a "baby mama" — a safe home?
And then there was the concluding paragraph, which undoubtedly contributed to the outpour of offended responses:
Maybe Peterson's son is just one more stands-to-reason murder victim, just another child born to just another "baby mama," one more kid who never had a shot, anyway. Maybe, by now, even if we can't accept it, we can expect it.
Yikes.
[image via NY Post]
— —
>> Follow Andrew Kirell (@AndrewKirell) on Twitter
Have a tip we should know? tips@mediaite.com