'Yeah, Just Imagine…': Fox's Roginsky Hits Trump Admin Members For FBI Investigation Hypocrisy
One of Fox News's most outspoken Democrats used her online segment to go after some of Donald Trump's top officials today.
Julie Roginsky has been honored here on Mediaite for the skillful way she dismisses Twitter trolls, but did you know she has a video segment online dedicated to it, too? It's called Clapback and in it, she reviews some of her greatest Twitter hits, then opines on the topics of the day.
Here are the tweets she featured when discussing yesterday's big revelation that the Trump campaign has been under FBI investigation for possible ties to Russia: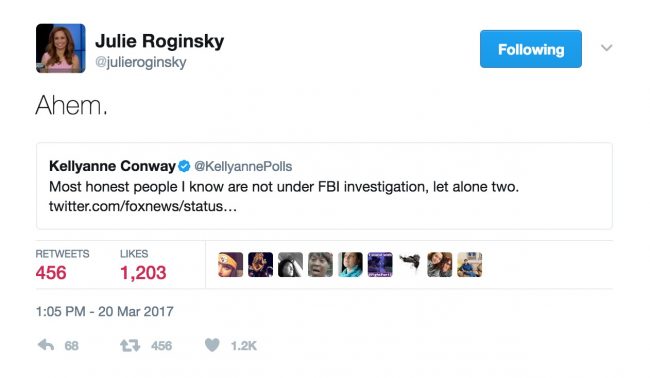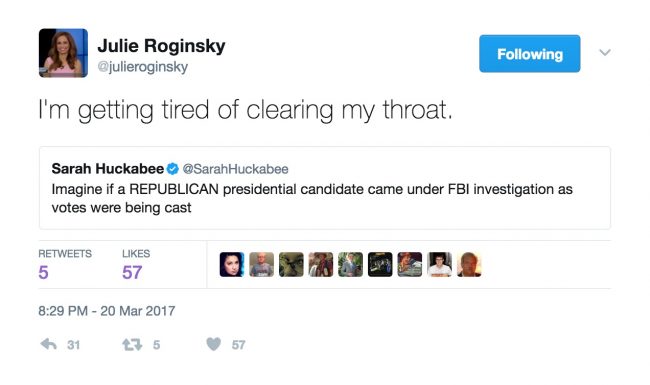 Obviously, Kellyanne Conway and Sarah Huckabee Sanders are two of Trump's most outspoken spokespeople and team members.
"Hmm…well, I refer you to Jim Comey's testimony from yesterday," Roginsky said in response to Conway's old tweet. To Huckabee's, she said, "Yeah, just imagine, Sarah Huckabee! Who could that possibly, possibly be?"
She moved on to Marco Rubio, who, one week before Trump's election, questioned, "Can this country afford to have a President under investigation by the FBI? Think of the trauma that this would do to this country."
Clearly, all three meant to hammer Hillary Clinton for the FBI investigation into her emails, but their comments didn't age well under Trump's presidency, especially after yesterday's revelation.
"I agree, Senator Rubio!" Roginsky enthused. "So what are you going to do as a sitting Republican senator in the majority to address the trauma that this country is facing now that Jim Comey has admitted that this President's administration and the people close to him and possibly the President himself has been under FBI investigation with respect to their relationship with Russia since at least July of last year? That is traumatic, Senator Rubio. I fully agree with you and with Kellyanne Conway, my old friend, and certainly with Sarah Huckabee. This country can't afford it, now do something about it."
[image: screengrab]
Have a tip we should know? [email protected]