Yesterday, The Onion Wrote About The Lack Of Deadly Shootings. Today They Wrote An Update: 'Never Mind'
The sad thing is that it seems just like the kind of dark joke that The Onion would normally write. There's the perfect set up and punch line. The only problem is that the punch line wasn't created by The Onion's writing staff. It was forced on them by a mad man at the Empire State Building.
You see, yesterday, the satirical paper wrote a article jokingly celebrating the lack of "deadly shootings" in the nation in recent days. Today, they had to put at update.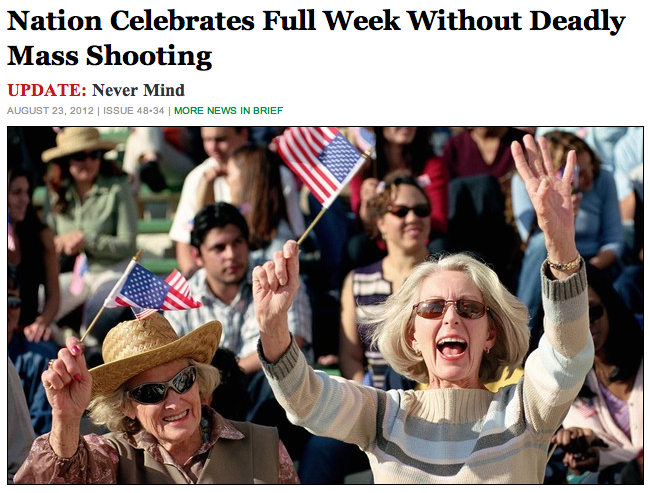 Yesterday's article was called "Nation Celebrates Full Week Without Deadly Mass Shooting." It described Secretary of Homeland Security Janet Napolitano telling a Times Square crowd (of all places) that "We did it, folks! We banded together and managed to go seven whole days without killing our fellow Americans in a senseless murdering spree!"
Pitch perfect (and pitch black) satire from The Onion. But then came this morning.
However, The Onion (the paper which famously wrote one of the first, as well as best, satirical responses to 9/11) wasn't just going to remove the article. Instead, they wrote an update, affixing the words "Never Mind" to the headline. Of course.
They also added this:
"UPDATE: Federal officials have reportedly just informed celebrating Americans that a mass shooting did in fact just happen in front of the Empire State Building, and that citizens should stop chanting and cheering now. 'Oh,' Secretary of Homeland Security Janet Napolitano said, looking at what appeared to be a news alert on her cell phone. 'You know what, forget it. There was another one about 20 blocks from here. So, party's over. Sorry.' Napolitano then urged the visibly saddened Americans to be careful, get back home as soon as possible, lock all their doors, and never leave their homes unless it is absolutely essential."
Yes, as always, everything sucks. Thank God we've got The Onion to keep us sane.
Have a tip we should know? tips@mediaite.com