Charlie Rangel Says Biden's 'Chains' Comment Was 'Stupid' A Reference To Slavery
Rangel Says Biden's 'Chains' Comment Was 'Stupid' A Reference To Slavery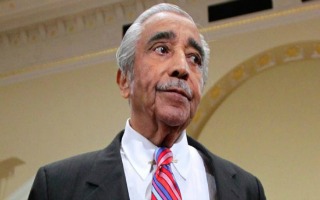 Vice President Joe Biden's "chains" comments from earlier this month continues to reverberate as the general election heats up. In an interview with a New York City-based radio host, Rep. Charlie Rangel (D-NY) was asked for his opinion on Biden's comments. Rangel contradicted explanations from some members of the Obama administration who had assured the press that Biden was referencing the figurative shackles that Republicans want to release from around Wall Street. Rangel said it was clear that Biden was making a slavery reference for the predominantly black crowd in southern Virginia. He also said Biden's comments were "stupid" and, if an African American had said them, Rangel thinks that those comments would have been comical.

RELATED: Biden: '[Republicans Are] Going To Put Y'all Back In Chains'
"The Vice President said he's going to put "y'all in chains," Rangel said in the interview with radio host Roberto Perez. "Was he talking about slavery? You bet your ass he was. Was he using the vernacular? Yes, he was. Did he think it was cute? Yes, he did. Was it something stupid to say? You bet your life it was stupid."
"It was something that if a black had said it, we would have been laughing, because we would know deep down, they may be beating the hell out of us but they ain't thinking about putting us into any chains," Rangel continued.
Rangel did say that Biden's comments were equivalent to Republicans claiming that they want to "unshackle" the financial industry, as the Obama administration has claimed, though he was clear that the slavery connotation could not be ignored. However, Rngel says that "the word that [Biden] used, chains, is a distraction from the larger argument."
Addressing an audience in Danville, Virginia on August 14, Biden told an audience that Republicans wanted to "unchain Wall Street," and added "they're going to put y'all back in chains."
h/t Politicker
> >Follow Noah Rothman (@Noah_C_Rothman) on Twitter
Have a tip we should know? tips@mediaite.com