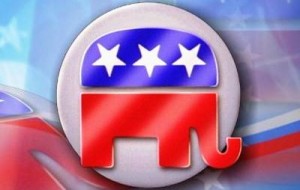 Remember that petition demanding that RNC attendees be allowed to bring their concealed weapons into the convention?
The petition was a joke, but it nonetheless caught fire with gun rights advocates who agreed with its main argument: that a gun-free zone (such as the Quicken Loans Arena, where the RNC will take place this month) constituted "a direct affront to the Second Amendment and puts all attendees at risk."
And now Trump supporters are reportedly planning to bring their guns to Cleveland in order to defend themselves against ISIS and protesters, according to Mother Jones.
Guns will still be banned in the convention hall itself, per the rules of the arena. But one delegate noted that there were still the host of activities and locations outside the convention: hotels, dinners, and so forth.
Mother Jones' Pema Levy reports:
"There are a whole bunch of things happening: You go to various events, receptions, whatever, outside the convention hall," says Ash Khare, a delegate from the northwest corner of the state who applied for a concealed carry permit in preparation for Cleveland. "And you walk on the streets and, you know, people know that you are a delegate, and who knows what the crazy people are going to do? So you've got to be vigilant about what's going on and prepare yourself."

Marc Scaringi, another Trump delegate from the Harrisburg area, says that during the past few weeks there have been many emails exchanged among the Pennsylvania delegates discussing whether to bring weapons to Cleveland.
Ohio, it ought to be noted, is an open carry state.
[h/t Mother Jones]
This is an opinion piece. The views expressed in this article are those of just the author.