CNN's Kasie Hunt Gets Dragged for a Perfectly Reasonable Take on Newsom That Happens to Stray from Progressive Orthodoxy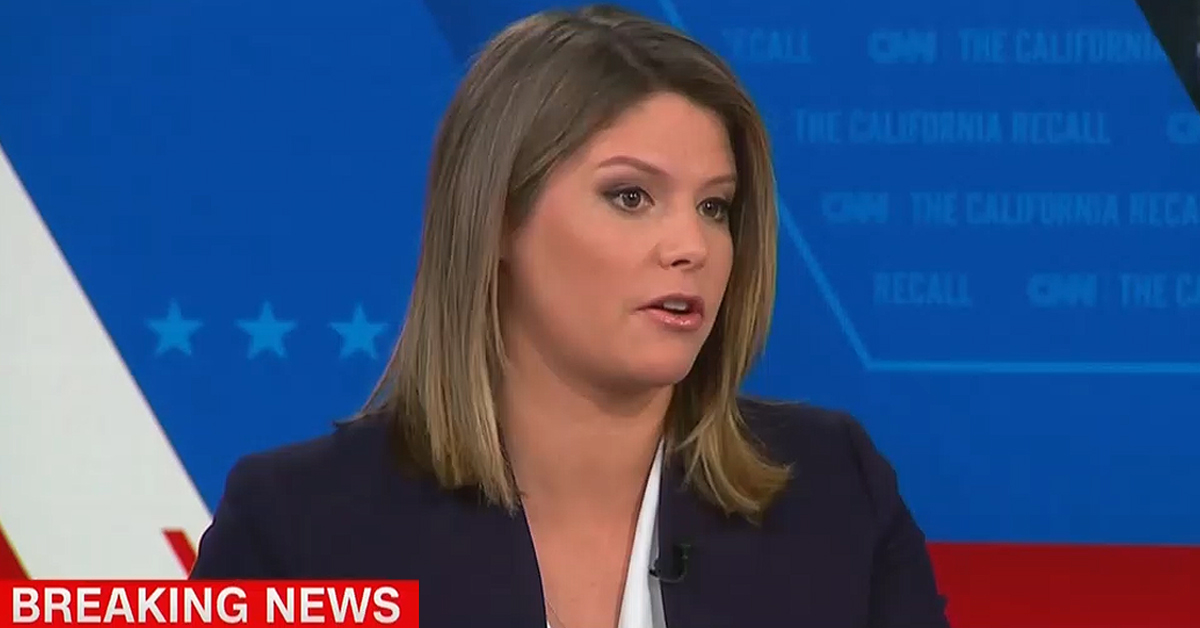 Newly minted chief national affairs analyst at CNN Kasie Hunt found herself in angry reply land on Twitter after California's recall election for a short tweet thread about the "big picture" in the state that angered progressives.
One of the worst crimes a political analyst can commit is to write an analysis of politics. Partisans and ideologues tend to reject any hard look in favor of soft and reassuring hot takes. So when Hunt described the political atmosphere that lead to the recall election – which, if we may note, was a recall election – and how what can be observed from it can or cannot be extrapolated and applied nationwide for Democrats, the reaction was fiercely disapproving.
Hunt began her thread by labeling her analysis as the "CA GOV BIG PICTURE" and describing some of the backdrop. "One of the top Democrats in the country got caught living like an elite while everyone else suffered. Elites vs. the rest is the driving force in our politics right now and Democrats have a tough needle to thread both in California & nationwide."
"Democrats need to prove they can govern for EVERYBODY, and if you look at California — it's not necessarily the best test case for national Democrats (see: concern about homelessness, crime, etc)," she continued. "Republicans not named Trump did learn they had unrealized opportunities with working class voters (including Black and Latino voters) as they watched 2020 returns roll in."
"Obviously California is a Special Place — but the fact that a Democratic national star in waiting *faced* a recall and then had to fight hard for it midway through the campaign does say a lot about the potential challenges Democrats face across the map," said Hunt, adding, perhaps most transgressively for the MSNBC-prone audience, that this is especially the case "if President Biden can't demonstrate he's capable of getting the resurgent pandemic under control, has another competence crisis a la Afghanistan, can't get his budget plan through Congress, etc."
Note the timestamps on the below embedded tweets.
The last tweet in the thread was approaching midnight on Tuesday night. "Kasie" was still trending Wednesday morning, along with "MSNBC" (because many didn't realize she'd moved to CNN) and "French Laundry" (because, well…):

She was still the #4 trend as recently as 10:00 a.m. ET:

Responses from liberal progressives to include some in media ran the gamut in ferocity, but were essentially of a mind.
Many pundits from the left and some celebrities (elites?) got in on the replies, including musician John Legend and former newsman Keith Olbermann.
There were some positive reactions though.
This response from USA Today's Doug Farrar may be the most telling as to why it is that analysis is so often the source of heartache in readers of a political mind.
Analysis is a tough gig in media. Readers, and even other writers, tend to prefer it when it casts a favorable light on their particular political penchant. When it doesn't? Well then you get your own sort of recall effort, via social media. If you're well-known and good at your job, anyway. So just as a landslide win in a political recall can actually show worry spots ahead for the victorious party, so an angry Twitter mob can actually be seen as compliment to the object of that rage. That's my analysis, anyway.
Have a tip we should know? tips@mediaite.com