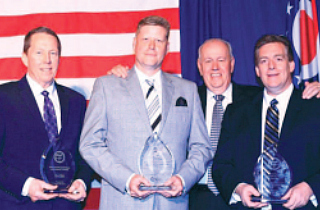 It's been almost 60 years since the momentous day when Rosa Parks refused to give up her seat on an Alabama bus, serving as a catalyst for the march to civil rights in America. Parks may have passed away in 2005, but her legacy and spirit lives on within us today, both as a collective people, and in the specific liberty-minded individuals who draw upon her example to fight the new civil rights issues of our time. People like Rich Youngblood of Ohio, who knows that no hill is too steep, no battle so hopeless, if only you have faith in the justness of your cause.
Youngblood is a conservative activist who best embodies the lessons that Parks left us, at least according to Citizens for Community Values, an Ohio group affiliated with Focus on the Family and the Family Research Council. As they detail in the latest issue of their newsletter, he was the recipient of their annual Rosa Parks Citizen Activist Award. The bravery he showed may just break your heart.
As they write:
"Rosa Parks ushered in the Civil Rights Movement by making a politically incorrect choice and standing for what she knew was right."
Yes. Yes, that is what she did.
"Courage defined Rosa Parks in 1955, and it also defines the recipient of this year's award, Rich Youngblood."
Promising start. Go on…
"Rosa Parks famously stated, 'You must never be fearful about what you are doing when it is right.'"
Hard to argue with that.
"Rich Youngblood's courage and community action is a testament to this truth. A tireless volunteer and activist, Rich recently convinced his local school board to withdraw high school curriculum that discriminated against…"
YES. THIS IS WHAT PARKS WOULD'VE WANTED.
"…students of faith by requiring personal reflection essays supporting homosexuality."
Oh. That… doesn't seem, uh… *Stares into the endless vastness of the ocean for a thousand years*
Note that the group doesn't specify what, exactly, constitutes an essay being "supportive" of homosexuality. Perhaps unsurprising coming from something called Citizens for Community Values, I suppose, but the cognitive dissonance here is still startling. Then again, words don't mean anything anymore, and Martin Luther King Jr. was a conservative who hated poor people and so on, so I guess anything goes now: For example, did you know that Ronald Reagan invented Obamacare and that George Washington thought climate change was real?
I reached out to the CCV for a comment, but they haven't returned my call.
Oh, by the way, this isn't the first time the group have sent Parks' legacy to the back of the symbolic bus.
In 2012 they gave the same award out to another white fella by the name of Jason Stevens. You'll never guess what he was lauded for standing up against:
"When the [Springfield, Ohio] city leaders said they were going to pass an ordinance granting special rights based on someone's sexual orientation, Jason said, 'Not on my watch.' With love and compassion he took a stand – a politically incorrect stand – to resist the passage of an unjust law that infringed on his community's religious freedom."
Wherever she is, I bet Rosa Parks is so proud right now she's weeping.
[Image via CCV]
— —
>> Luke O'Neil is a journalist and blogger in Boston. Follow him on Twitter (@lukeoneil47).
Have a tip we should know? tips@mediaite.com