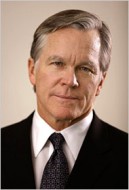 After the New York Times cut 100 jobs, editor-in-chief Bill Keller told his staff that they should not fear a "next round" of layoffs because more cuts were neither "planned or foreseen." In a memo that circulated Friday, as reported by The Observer, Keller was somber, yet hopeful. "That unwelcome and unpleasant task is now behind us, mostly thanks to voluntary buyouts, but some of it through layoffs, and all of it attended by a sense of loss," he started. But about the future, he was measured, though optimistic:
Of course, we have no guarantees of what the future holds. But, anxiety-fed gossip nothwithstanding, there is no further newsroom staff cut planned or foreseen, no "next round" on the agenda. It is my fervent hope that we will never endure another month like this one. Indeed, while the business climate remains cloudy, there are some hopeful signs — in the heft of the paper, in the display ads on the website — that we are over the worst of the economic upheaval. The company is hard at work on some promising ways to boost revenues and get back on a path to growth. More to come.
The problem is, last year had a similar eulogy, as noted by NYT Picker:
No, I do not see another round of newsroom staff reductions on the horizon. In fact, we are entering into the budget discussions for 2009 with a determination — shared by Arthur and Scott — to protect the journalistic team that is the engine of our long-term success….What [the recession] will NOT mean, I most fervently hope, is a surrender to the short-sighted, serial staff cuts that have hollowed out some of the nation's great news organizations.
Clearly, the economic downturn and subsequent business maneuvers are ultimately out of Keller's control, but that doesn't make being a Times employee any less stressful in these turbulent times. You can read the rest of Keller's memo from this year here.
Keller: There Is 'No Next Round' of Layoffs [The Observer]
Sound Familiar? Executive Editor Bill Keller Says No More Newsroom Cuts "Planned Or Foreseen." Just Like He Said Last Year. [NYT Picker]
Have a tip we should know? tips@mediaite.com