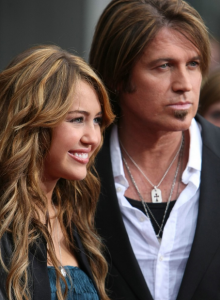 You've got to feel for Billy Ray Cyrus: Not only is the singer / songwriter going through a very public divorce and dealing with his 18-year-old daughter Miley Cyrus' very public indiscretions (funny how that girl always seems to have a camera handy when she's getting into trouble), but he'll be forever tied his 1992 mega hit "Achy Breaky Heart."
GQ writer Chris Heath sat down with Cyrus for the magazine's March issue to discuss his recent heartbreak – with as few Achy Breaky-inspired puns as possible, much to Heath's credit. As it turns out, Cyrus has quite a lot to get of his chest.
For one, Cyrus is quite adamant that he has "never made a dime" off his daughter's substantial, staggering fame – a fame which took root with her insanely popular Disney Channel series, Hannah Montana. "I'm proud to say to this day I've never made one commissioned dollar, or dime, off of my daughter," he tells Heath. What's more, he regrets ever having done the show in the first place.
He also shares that, contrary to what many seem to believe, he has never acted as his daughter's manager (although he has played one on TV), nor has he "been able to have a voice" when it's come to speaking out about his daughter's penchant for angering and horrifying parents of her young fans, either by spinning around polls or taking bong hits on video:
Every time something happened in Miley's career, every time the train went off the track, if you will—Vanity Fair, pole-dancing, whatever scandal it was—her people, or as they say in today's news, her handlers, every time they'd put me… "Somebody's shooting at Miley! Put the old man up there!" Well, I took it, because I'm her daddy, and that's what daddies do. "Okay, nail me to the cross, I'll take it…."
Until, that is, he decided he just couldn't take it anymore:
You know why I didn't go [to Miley's 18th birthday party]? Because they were having it in a bar. It was wrong. It was for 21 years old and up. Once again all them people, they all wanted me to fly out so that then when all the bad press came they could say, "Daddy endorsed this stuff…." I started realizing I'm being used. If I would have went out there I would have been right in the middle of all this stuff that's going on right now with the bong.
The portrait Cyrus paints of himself in Heath's interview is ideal for a country artist without an album coming out this Memorial Day, sure – a broken-down man struggling to leave his dark, troubled past behind forge a new path for himself… you can almost picture the album cover now – but it also presents a man who is looking in on Hollywood from the outside (Tennessee, specifically), a man who is more proud of his role in a TV movie penned by country crooner and chicken monger Kenny Rogers than his part in David Lynch's acclaimed Mulholland Drive. And? A man who is pretty darn funny: "I read that I have the distinct honor of creating the Kentucky Waterfall," he tells Heath, referring to his particular "brand" of mulletdom. "I think that's a pretty good name for it. Though I do love the Missouri Compromise."
Heath's article is a (surprisingly?) moving, funny, revelatory read, perhaps because Heath allows Cyrus a platform to say his piece while still keeping enough distance to recognize that, with a celebrity, it's a risk to fully believe that a public persona can ever truly become simply a person having a conversation with an agenda, without a product to sell or a convert to claim. It also drives home a very important lesson: A life played out in front of the media can and will swallow you whole. Fathers, don't let your daughters grow up to be Miley. And, while you're at it, don't get rich and famous off songs played at every wedding, graduation, cruise ship buffet and bar mitzvah in the late 90s.
Have a tip we should know? tips@mediaite.com