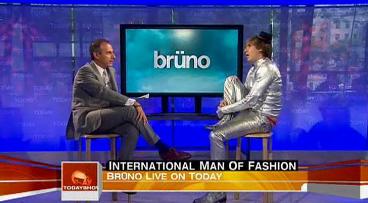 "Bruno" hit theaters this weekend, and the results are in — over $30MM made it the Box Office Champ.
Maybe one reason for the strong opening will be the soft treatment Sacha Baron Cohen has gotten during his promotional tour. Actually, soft isn't the right term – it's more strangely compliant.
Earlier this week we wrote about the rare appearance by Baron Cohen as himself on the Late Show with David Letterman. Rare, but the right move. Letterman is a late night host, so comedy is his job. But over the last few weeks, real journalists have conducted interviews with "Bruno" rather than Baron Cohen, acting as if they were just happy to be part of the joke.
Time Magazine's James Poniewozik wrote about the practice earlier this week: "Even for funsies, reporting is about relating something actually true, not helping someone create a character."
But for people like Matt Lauer on NBC's Today show, funsies abound during his interview with "Bruno" yesterday (video below). It brought to mind Lauer's interview with Will Ferrell – in the movie "Land of the Lost." This, however, was no movie – it wasn't Matt Lauer playing "Matt Lauer."
The same was true with Baron Cohen's GQ cover story. It was all Bruno, all the time.
Even Letterman eventually acquiesced and had Bruno do his Top 10 list Wednesday night in a generic promotional ploy. ("Reasons to See The New Movie 'Bruno'", Letterman? Really?)
But journalists like Lauer – who actually are great at being and not playing journalists – can turn into doting publicists at the chance to get their pop culture moment.
Here's the Today interview:

—-
• Follow Steve Krakauer on Twitter
Have a tip we should know? tips@mediaite.com