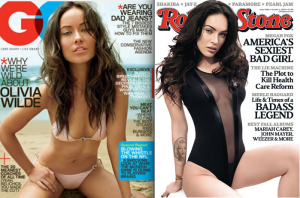 When Megan Fox told GQ last year that "Olivia Wilde is so sexy she makes me want to strangle a mountain ox with my bare hands," she made quite a statement. Just about every media source picked up the saucy story, from Perez Hilton to Fox News. Who was this Olivia Wilde chick, and what was it about her that made Megan Fox want to switch teams?
When Foxy Megan said this back in May, we doubt that she anticipated she would be competing with Ms. Wilde in just a few short months for the hottest October cover ever. While Megan poses as her usual seductress on the cover of Rolling Stone this month, a bikini-clad Olivia playfully graces the cover of GQ — the same mag that Fox revealed her desire for Wilde to earlier this year. The two have been in a playful competition of hotness ever since Olivia Wilde topped Maxim's esteemed Hot 100 list, beating out Fox who came in at #2.
Fox's audacious quotes and tendencies are undoubtedly part of her allure. She has the media wrapped around her finger — whether she's expressing her lust for Olivia Wilde or comparing Michael Bay to Hitler, people listen to what comes out of her mouth, almost religiously. We're not sure if she says these things for attention, or if she actually believes them, but she's doing a fine job keeping us on our toes.
As for Wilde, when she heard about Megan's comment, she coyly replied, "Anything I can do to save the mountain ox, I'm happy to do." Instead of starring in competing covers, maybe these two should have planned a joint photo shoot…
Have a tip we should know? tips@mediaite.com